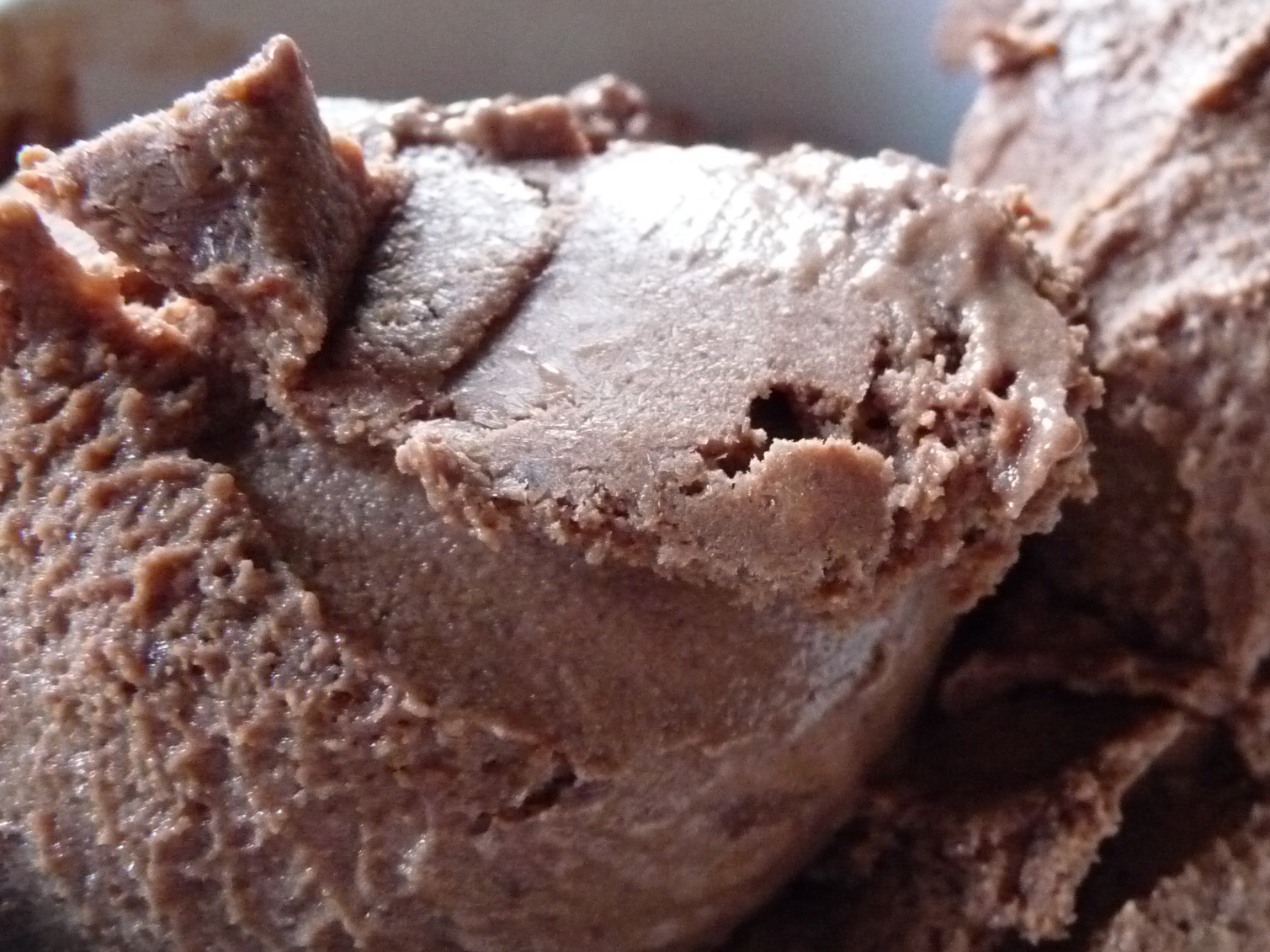 Homemade ice cream equals happiness, pure and simple.
It's like anything else, I guess — making something at home that most people think can come only from a store is incredibly satisfying. But ice cream is so simple, and so quick to transform itself into heaven, that it has a special place in my heart.
So when I saw a few weeks ago that Katrina of Baking and Boys had chosen this recipe, I put it on my must-make list, which is considerably shorter now than it used to be.
And then I forgot about it.
So when I remembered at 3:30 on Friday afternoon — knowing that we'd be out Saturday, Sunday, and Monday and therefore not be able to have the ice cream then — I sprang into action. No cream; very little half-and-half. Too damned lazy to go to the store.
Wait! What's this? Coconut milk!
Who says I'm not brilliant?
So, I made the chocolate ganache ice cream with 14 ounces of coconut milk — light coconut milk, even, because Trader Joe's doesn't sell the regular stuff — and 6 ounces of half-and-half. I used TJ's dark chocolate despite my usual inclination to substitute milk, because Dorie said I should. (She was right. She's almost always right.)
Generally when I make ice cream (which used to be a lot more frequently, of course), I make Philadelphia style: cream, sugar, something yummy; no eggs. But occasionally I'll make a David Lebovitz blow-out; if you want to make ice cream at home, you must get his Perfect Scoop.
This recipe calls for egg yolks, but only four. Using yolks certainly makes for a creamier custard, but we're generally happy without them. They sure were good this time, though.
Just like the last time Tuesdays With Dorie made ice cream, this stuff is marvelous. Dorie sure knows her way around an ice cream maker. What took this ice cream (can I call it ice cream if I used mostly coconut milk?) over the top is the ganache: The chocolate is chopped and melted in hot cream, and then the custard is added. Oh, yes.
Because I used coconut milk, the obvious topping was toasted coconut. Alex added cinnamon and peanuts too, and I think next time I'll chop some macadamias and toss them in while it's churning. Yum.
I don't like chocolate ice cream as a rule. I don't like chocolate cake, either; I prefer my chocolate straight. But I loved this ice cream: It's dark and rich and creamy and amazing. Trust me. And trust my family:
Tim [the guy who gave up carbs]: I have not enjoyed ice cream this much in seven months. It was like letting a chocolate half-and-half cloud melt on my tongue.
Alex [the guy who cut way down on carbs]: I don't like chocolate and I don't like ice cream, but this is really good. It's especially good with cinnamon and peanuts.
Ben [the guy who eats anything and everything]: It was good with the mix-ins, but plain I think the coconut milk overpowered the chocolate.
So give it a shot — it's totally worth your time. You can find the recipe in Baking: From My Home to Yours by Dorie Greenspan or at Baking and Boys. And a plain-jane recipe like this will inspire all kinds of variations from the other Tuesdays With Dorie bakers, so check them out too.