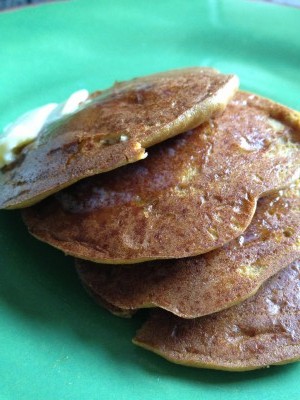 OK, you all know I have a dislike-hate relationship with this whole paleo thing. I eat that way — most of the time — because I feel better when I do, and because it keeps my weight steady (although still higher than I'd like). But unlike a lot of converts, who swear up and down that they never miss the evils of flour and sugar, I miss them both. All the time.
So I saw this recipe for pancakes on George's wonderful Civilized Caveman Cooking Creations, and I had to try. I've had real pancakes exactly once in the past two years (and they were marvelous), and I wanted more, damn it. And I've been quite pleased with the other Civilized Caveman recipes I've tried, so this morning, when I wanted something different for breakfast — dare I say, something sweet? — I went with George.
But I don't like bananas, and even more crucially, I didn't have any. So I did some modification, and here it is!
Pumpkin Pancakes
1 cup pumpkin puree
¼ cup peach butter (or apple butter, or something all-fruit that's equally sweet)
4 eggs
½ cup almond butter
healthy grating of fresh nutmeg
1 teaspoon vanilla extract
I used an electric griddle, which is awesome. I hate trying to keep the heat at the right level over a fire. If you have one, preheat it to 325 to 350 degrees. (One side of mine works best at 350, the other at 325. Yours, who knows?) Combine all ingredients in a blender or food processor and mix well. If your griddle or skillet is not nonstick, grease it with coconut oil and pour batter. I found that 3-inch pancakes worked well. Cook till browned on the bottom — if you don't wait long enough, they tend to fall apart when you try to flip them — then flip and cook till browned on the other side.

We served them with Kerrygold butter and a bit of warmed maple syrup, but hey, be creative.
They were a bit dry, but perfectly acceptable — and the flavor was great. Enjoy!