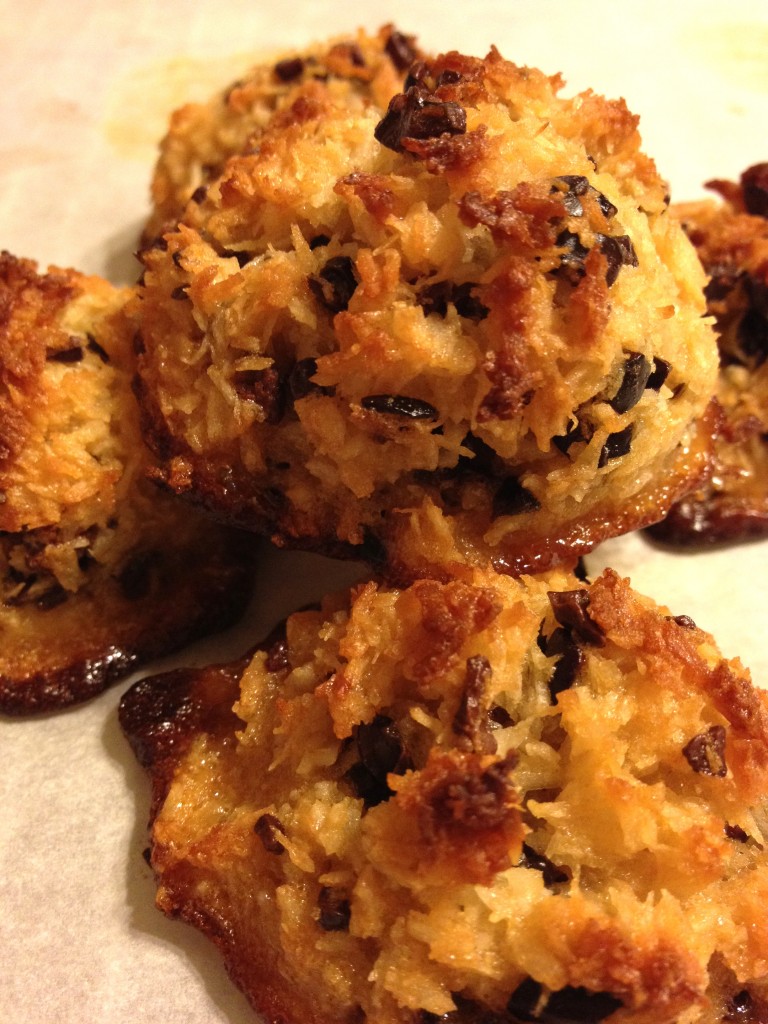 Yes, it's been months. Nine long months during which I didn't post a thing on this blog, despite the fact that I have indeed been baking.
Sheer laziness.
I've been eating paleo/primal since the beginning of the year; the main difference from my old life is that there are no grains and no processed sugar. (In theory, mind you. Only in theory. I have had both grains and sugar at various times in 2011; I just try not to bake with them at home.)
I've made a variety of primal cookies this year, but I just haven't bothered to write down what I did.
That changes now.
After his Thanksgiving baking frenzy, Alex left me six egg whites in the refrigerator. That very day I found a recipe in a paleo cookbook for coconut macaroons, and it called for — wait for it — six egg whites.
Who am I to argue with fate?
Of course, I tweaked the recipe a bit. And the result is quite satisfying on a cold Saturday evening.
Even if you haven't given up everything that makes life worth living, give them a try.
Primal Coconut Macaroons (makes about 30 cookies)
6 egg whites
¼ to ½ cup agave or maple syrup
½ tablespoon vanilla
3 cups unsweetened shredded coconut
½ cup cocoa nibs
Preheat the oven to 325 degrees. Line a baking sheet with parchment.
Whisk the egg whites till they form soft peaks. Reduce mixer speed to low and mix in the syrup and vanilla. Using a rubber spatula, gently fold in the coconut and coconut nibs.
Form into one-inch balls (a cookie scoop helps immensely with this) and bake for about 15 minutes, till slightly browned.
Cool on the parchment paper on a wire rack.
They're delicious while still warm.
(I apologize for the quality of the photograph. Technology issues. I'll do better next time.)