I really haven't been posting much lately; I just haven't had time to cook anything interesting all summer (apart from my Tuesdays With Dorie recipes, of course). I will try to do better now that it's cooling off out there.
I almost passed on this week's TWD; I'm just not a huge fan of most pie, and I don't particularly like lime (or lemon, or orange, or …). But the rest of my family loves lime everything, and there was a mini-rebellion when I suggested skipping this one.
So yesterday #2 Son and I went out and bought those baby graham crusts (thank you, Keebler) and made some pies.
He did the hard work, the zest grating and lime juicing and ingredient measuring.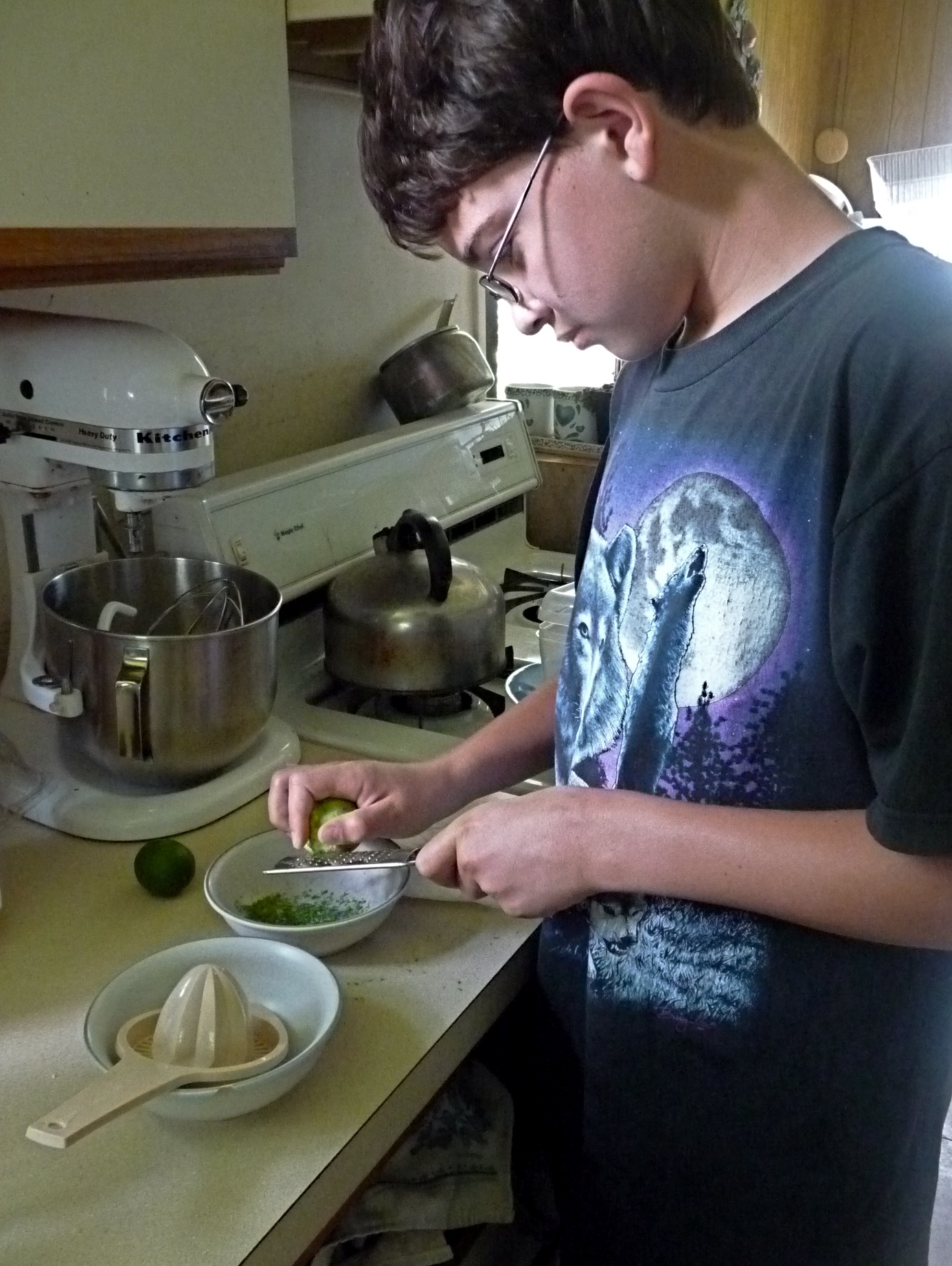 Isn't it pretty?
We took turns whisking the egg mixture over the simmering water; it took less than three minutes to get up to 180 degrees, so I guess our flame was a bit higher than Dorie's suggestion, but it worked well. I'm not a patient person.
Straining didn't work — the lime cream was just too thick to go through the holes, so I dumped it straight into the Vita-Mix and whirled it around. We used half the butter (thank you, P&Q), and boy, was that stuff tart.
We gave it three hours in the fridge — dinner was approaching, and as #2 Son pointed out, we had cut the recipe in half so it needed less time to cool. He did the shell-filling honors while I made the meringue (which I cooked a bit, following Peabody's excellent suggestion; I used half a cup of sugar for two egg whites, which is slightly less sugar than Peabody calls for and more than Dorie calls for, but hey, I'm a rebel).
Then he applied the meringue artistically, six different ways, and I stuck them in the broiler, one at a time.
Turns out 30 seconds is too long.
And 20 seconds is too short.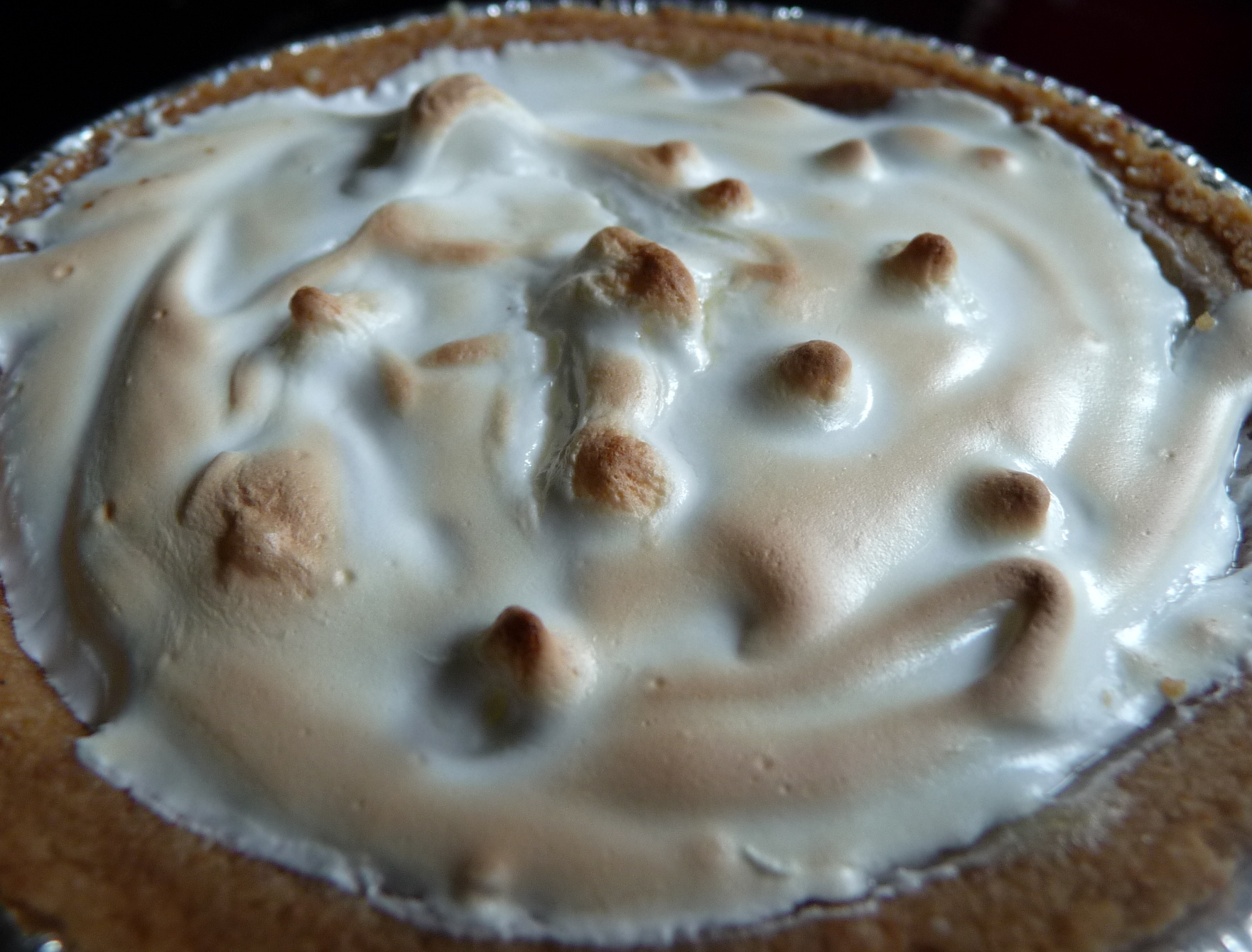 But 25 seconds is just right.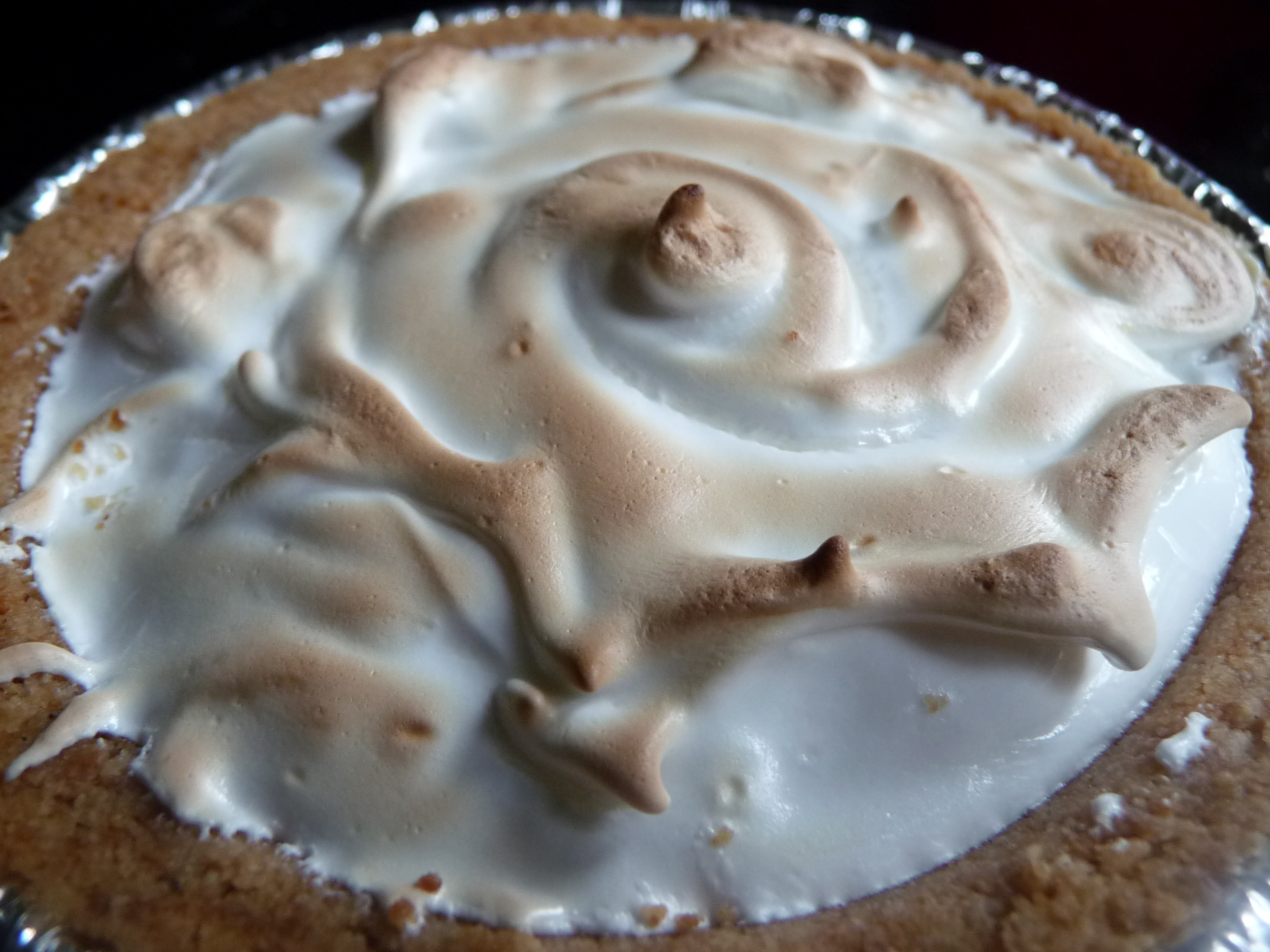 I was dubious about the broiler's ability to set the meringue (which is one of the reasons I made Peabody's version), but it was lovely. I actually liked the pie once all the components were together, and the rest of the family loved it:
Husband: I thought the marshmallowy meringue was a fantastic change. I probably wouldn't have liked it as much with a more standard, chewier meringue. The lime flavor was spectacular, tart, deep, very pleasing. I could easily have eaten every single one of those little things.
#1 Son: The pie was delicious. The ginger in the lime filling made it bright and complex, and the marshmallowy meringue was a perfect companion.
#2 Son: I think the meringue could have been a little less sweet. The lime cream was good, but it had this weird aftertaste; I couldn't figure out what it was. All in all, om-nom-nom, nom-nom, om-nom-nom. [Translation: That was quite delicious, Mother. May I have some more?]
There are sure to be many variations among the Tuesdays With Dorie bloggers, and Linda of Tender Crumb will have the recipe posted today. (Or buy the book!)