This week's Tuesdays With Dorie recipe, chosen for us by Mary of The Food Librarian, was for banana bundt cake. For a while now, my go-to banana bread/cake/yumminess recipe was courtesy of David Lebovitz, whose name seems to be popping up in my posts a lot lately. His reasonably healthful (when made with white while-wheat flour and walnuts, and only occasionally chocolate chips) banana cake shows up a lot on our weekend breakfast table, and I usually have a loaf in the freezer.
But I thought OK, I'll try Dorie's. I'll be a good sport. And in fact, Dorie's was good. But I'm spoiled by David's, which I always make with the optional shot of espresso he recommends.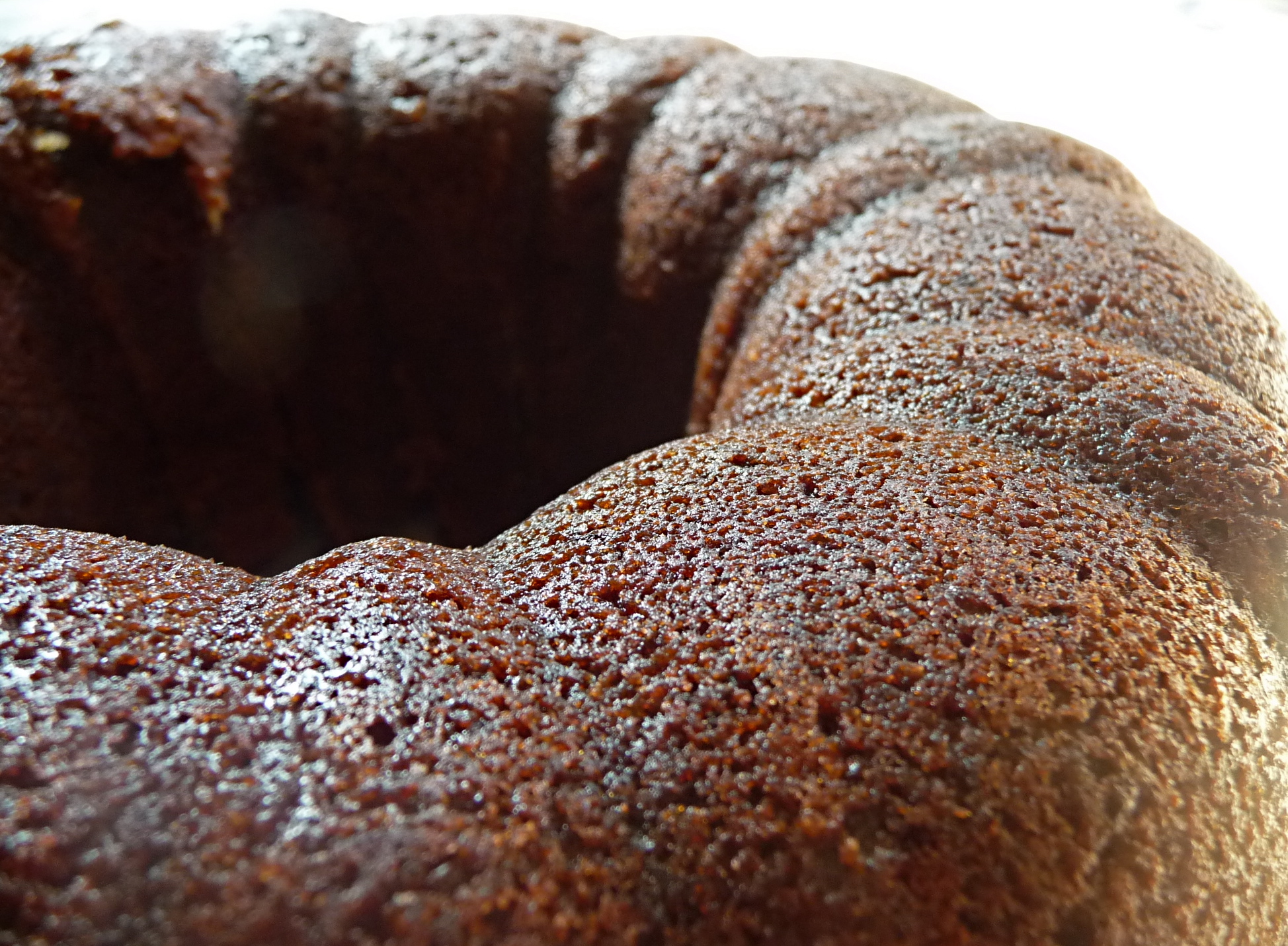 I made the cake on Friday evening, figuring I'd let it sit overnight as Dorie recommends; we were having company for breakfast on Saturday. You'd think I'd have learned by now not to bake at night, because by 4 p.m. my brain has pretty much packed it in for the day. And yet.
I used white whole-wheat flour and Greek yogurt and added half a teaspoon of almond extract, but otherwise made the recipe straight. Oh, and the bananas I found in the freezer didn't make up quite enough puree, so I filled it out with apple butter. I had intended to toast some pecans and toss those in there too, but, um, I didn't. Much angst.
When I poured the batter into my trusty Bundt pan, it filled it nearly to the top. That worried me, because some of the P&Q comments mentioned that this cake rises quite a bit. So I put it on a cookie sheet. Yay me!
Half an hour later, when the top was brown (and there were lumps of batter spattered onto the cookie sheet), I tented the cake with aluminum foil. It made no appreciable difference. By the time the cake was finally done, at about 75 minutes, the top was actually burnt.
Luckily, the top of a Bundt cake is also the bottom!
When the cake finally made it to the table on Saturday morning, accompanied by Greek yogurt and fresh local blueberries, it looked very pretty. The 2-year-old girl who was visiting scarfed her piece right up; I wish I'd gotten a photo. She's adorable. (She also loved the Tall and Creamy Cheesecake back in December — my perfect customer!)
Anyway, we liked it. It was moist, although not as moist as I would have liked; I supposed I could have overbaked it, but it was mushy in the middle till right before I took it out of the oven for the last time. The banana flavor was good. I think I'll stick with Mr. Lebovitz in future, but this one looks prettier, so it's better for guests.
Go see what all the other Tuesdays With Dorie bakers did with the cake. And if you want to try it yourself, buy the book, Baking: From My Home to Yours by Dorie Greenspan, or head over to The Food Librarian.
See you next week!