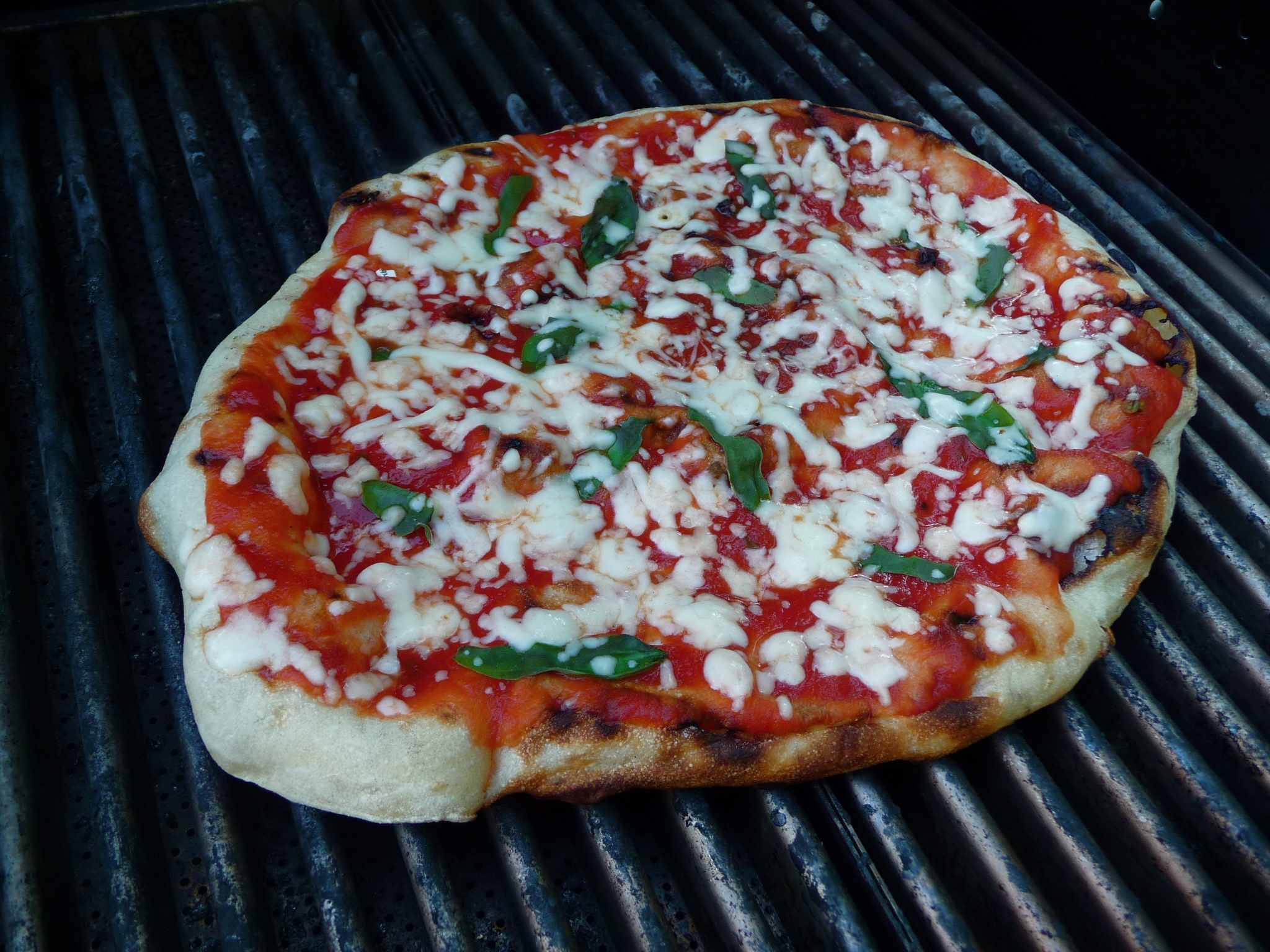 For years I've been reading people's descriptions of making pizza on a grill. I make pizza — really good pizza, amazing pizza, pizza that's spoiled me for ever eating pizza anywhere else, including at artisan places with wood-fired ovens. Mine is just better.
But my oven is pretty low-end, and it doesn't get nearly as hot as I want it to. The secret to top-notch pizza crust is heat — 750 to 800 degrees minimum. So I wanted a grill, a fancy grill with a thermostat.
But I didn't have one. Every spring and summer I'd talk about buying a grill, and I even gazed at them longingly when I was unlucky enough to find myself at Home Depot or Lowe's.
But we never bought one, until this year. My older son, Alex (previously known here as Son #1), is going off to college in August, and we're throwing him a going-away party. Of course, a party in the summer needs a grill, so we finally had the excuse we needed to buy one.
And I am so glad we did. And I'm glad we waited, because we got one of those newfangled infrared grills. Let me tell you: It's not a gimmick. Every single thing we have grilled, including steak, burgers (both beef and buffalo), lamb shish kebobs, green beans (!), corn on the cob, and now pizza, has been amazing. Simply fantastic.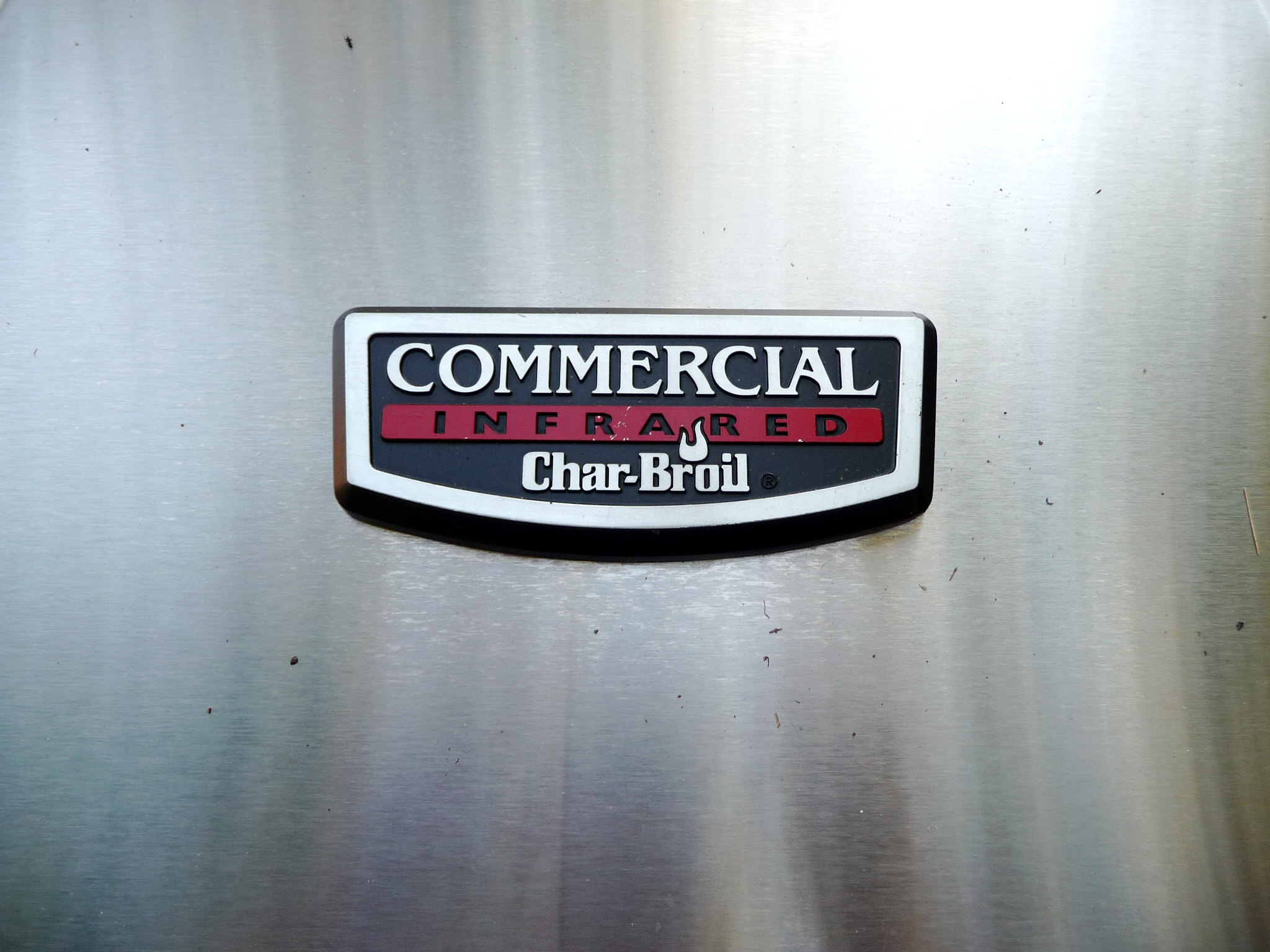 Look! Corn!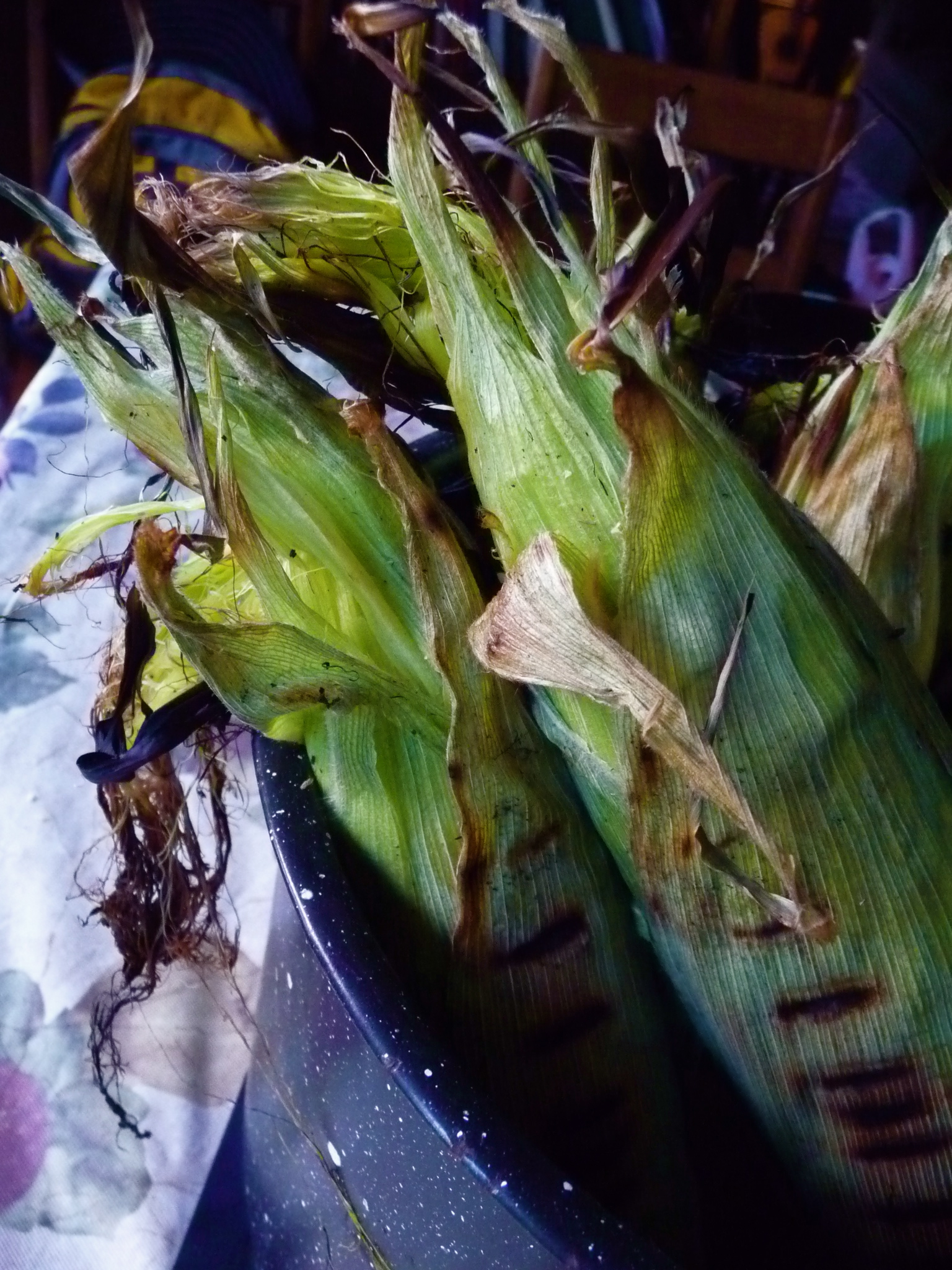 You know what's a revelation? Grilled sweet corn. Soak the ears, in the husks, for 15 minutes. Grill for 6 to 7 minutes, then turn and do the same on the other side.
No salt, no butter, nothing: This is the best corn I have ever tasted. I could eat nothing but grilled corn for an entire day.
But this post is about pizza. My pizza is still a work in progress, so take this for what it's worth.
I make an amazing pizza dough, courtesy of Maggie Glezer's fabulous Artisan Baking Across America. (Great book, which appears, tragically, to be out of print. If you find a copy, buy it.) This stuff handles so beautifully you won't know whether to laugh or cry.
Gemelli Pizza Margherita from Artisan Baking Across America, by Maggie Glezer
3⅓ cups (500 grams) unbleached bread flour ¼ teaspoon instant yeast 2 teaspoons (10 grams) sea salt 1½ cups (330 grams) lukewarm water
Put the flour, yeast, and salt in a mixing bowl. (I make this in my KitchenAid, but you can do it by hand if you're less lazy than I am.) Stir them together by hand. Using the dough hook, mix on low speed while pouring in the water slowly; continue to mix on low speed just until the dough gathers around the hook. Cover the bowl and let the dough rest for 10 to 15 minutes.
Mix the dough on medium speed for about 3 minutes, till it's fairly but not perfectly smooth. The dough should feel sticky at first, and then soft and dry to the touch (although it might still be a bit sticky; as long as you can handle it, it will be OK). (I have never had to add either more water or more flour.)
On a lightly floured work surface, cut the dough into four pieces, each 7 ounces (200 grams). Shape each piece into a tight ball: Flatten the dough, then roll it up like a carpet. Turn the roll, position it seam side up, and roll it again. If you can, do this a third time. Turn the dough so the seam is on the bottom and round the edges to form a tight ball. Roll each ball in flour and arrange on a floured tray, then cover the tray tightly with plastic wrap or a cover.
Let the balls rest at room temperature until they are soft and puffy but still springy, 5 to 6 hours. Or refrigerate the shaped balls up to 36 hours, then remove from the refrigerator and let them finish proofing at room temperature for 7 to 8 hours.
When this stuff is fully proofed, it's a dream to work with.
Every recipe I found on the Internet said to brush the bottom of the dough with oil before putting it on the grill, so I did. But I never managed to flip the dough neatly onto the grill, so it wound up bunched up and too thick. So the last shell, I just put on a heavily floured peel and then slid right onto the grill. It actually stuck less than the oiled ones.
We cooked the pizza shells for a minute or so on each side, then brought them inside and topped them with pizza sauce (just canned tomato sauce plus garlic and oregano and basil and salt) and basil from the garden and mozzarella, then put them back on the grill just long enough to brown the cheese. The bottoms were a little charred; next time I think we'll turn the grill down and let it cool a bit before the last step.
But oh! Best pizza ever, and I say that as someone who has always made the best pizza ever. Try it.