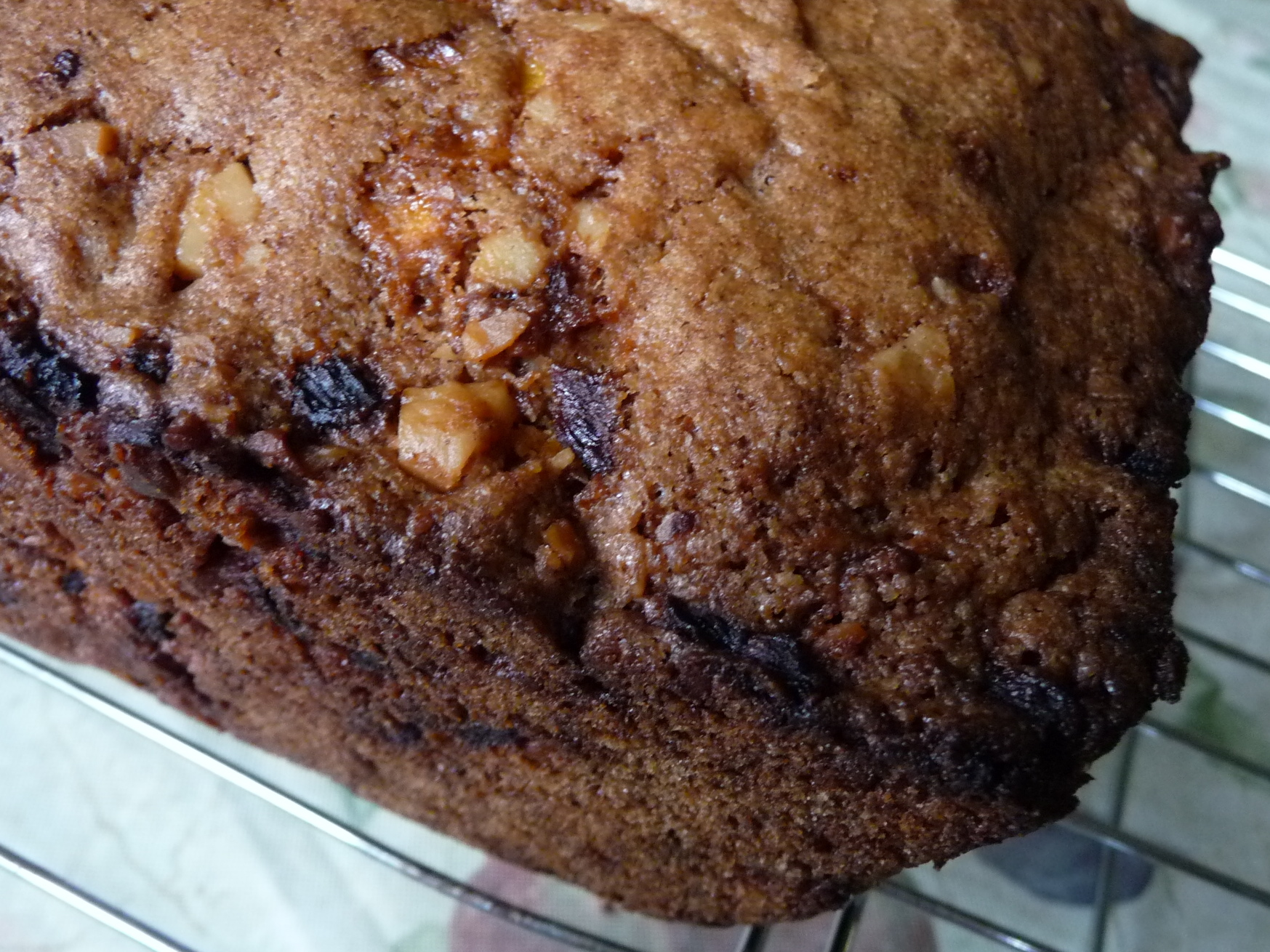 I'm a sucker for quick breads, as long as they're good; I've certainly had more than my share of dry, tasteless banana bread. But this week's Tuesdays With Dorie recipe, chosen from Baking: From My Home to Yours by Kelly of Baking with the Boys, is not dry and tasteless, not by a long shot.
Y'all know I'm not a fan of fruit (nor am I Southern!), so I diced the mango up pretty small. I didn't want big chunks of fruit messing up my quick bread. (And it took forever, let me tell you.) I got the required 2 cups out of one mango, so either my mango was larger than most or my dice was smaller.
Being so anti-fruit, I tweaked the recipe a bit: Dorie mentions that the original version had nuts in it, and that sounded good to me. I found some dry-roasted macadamias in the fridge, a bit more than a cup, so I chopped those up and threw them in there. I also used nutmeg rather than ginger, in deference to Husband's lack of love for the latter, and left out the lime, in deference to mine.
Other than that, it was all Dorie.
Oh, except for the King Arthur white whole-wheat flour I used in place of the all-purpose.
So after the forever it took me to cut up the mango, the batter came together quickly. It was, as the recipe cautioned, really thick, not at all like most quick breads. I baked it for about an hour and 20 minutes, and the outside is just a bit overdone — not terribly, and it doesn't affect the taste.
I was going to save it for breakfast, as per Dorie's recommendation that it's better the second day, but we had a friend here helping Husband put up some shelves, and I didn't cook an actual dinner, so I figured we could at least have the mango bread. It was still a bit warm inside when we cut it.
And it was good.
It was moist and flavorful, although I can't say that I tasted a whole lot of mango flavor. But from my point of view, of course, that's a good thing. I ate my slice plain, and it was delicious.
Husband: It was really good — I enjoyed it. There was just enough fruitiness and sweetness to mark it as a quick bread, but the nutmeg really made it almost a piece of a meal. Somewhat strangely, it meshed well with the Can Blau 2007 I was drinking.

#1 Son: I really liked it. The fruit was good, the nuts were perfect, and the crust had this crunchy sweetness I can only compare to the top of a blondie. It would have been better with ginger, though — damn my father's constrained palate.
#2 Son: I liked it. It was a little crumbly, but the macadamia nuts were very good, the crust was crunchy and good, and the entire thing was good. I don't think I've ever not liked something of Dorie's [editor's note: or anything at all, really].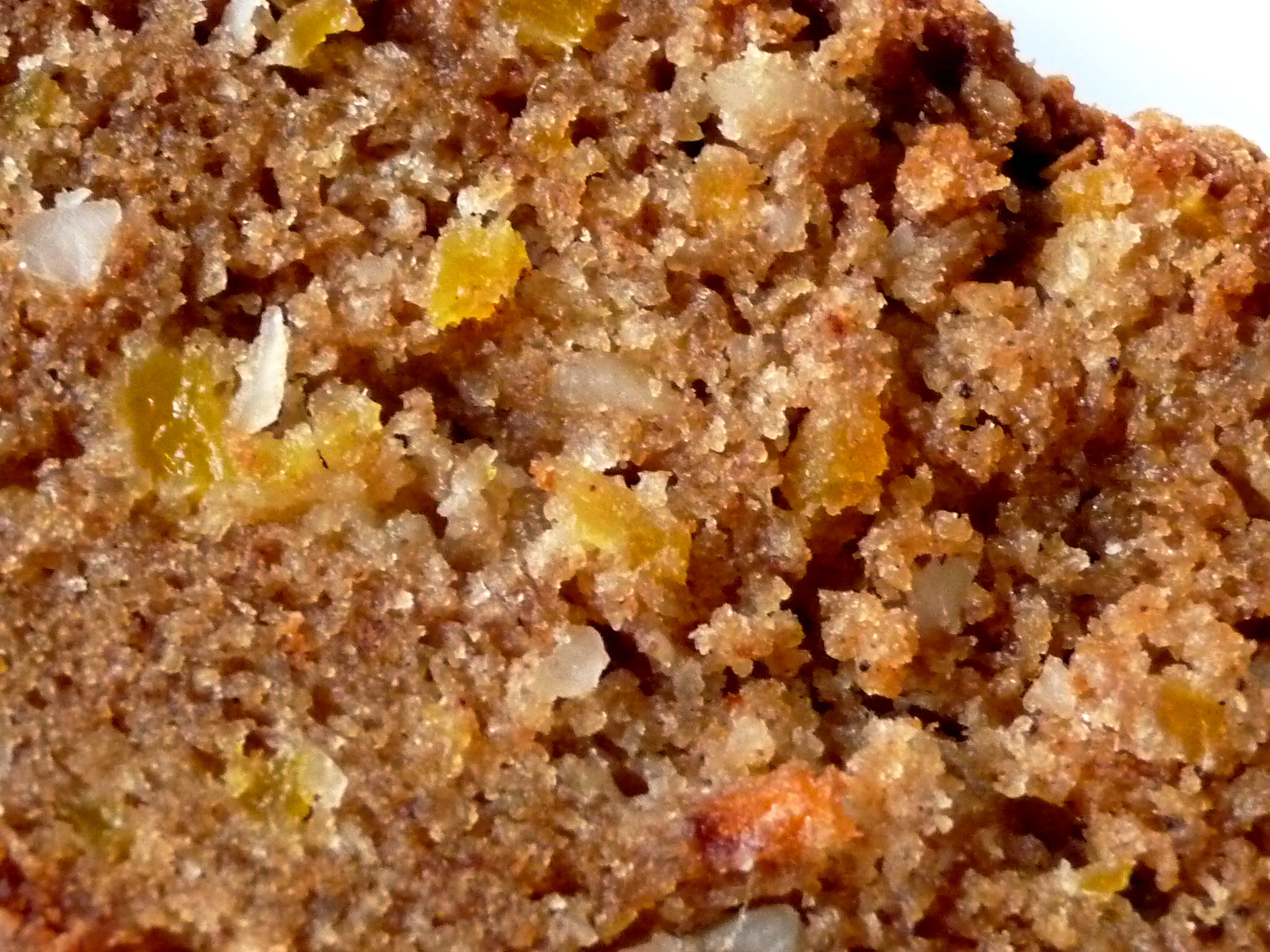 We managed to save more than half the loaf for breakfast the next day, when it was still delicious. It was less crumbly, but the flavor was the same. Good.
Oh, and I'm supposed to tell you that it's excellent with cream cheese and fruit compote, which #2 Son made by pouring a bag of Trader Joe's frozen mixed berries into a pot with 2 tablespoons of honey, then cooking on low till the berries were soft. Then he mashed them with a potato masher and cranked up the heat to medium to cook off some moisture.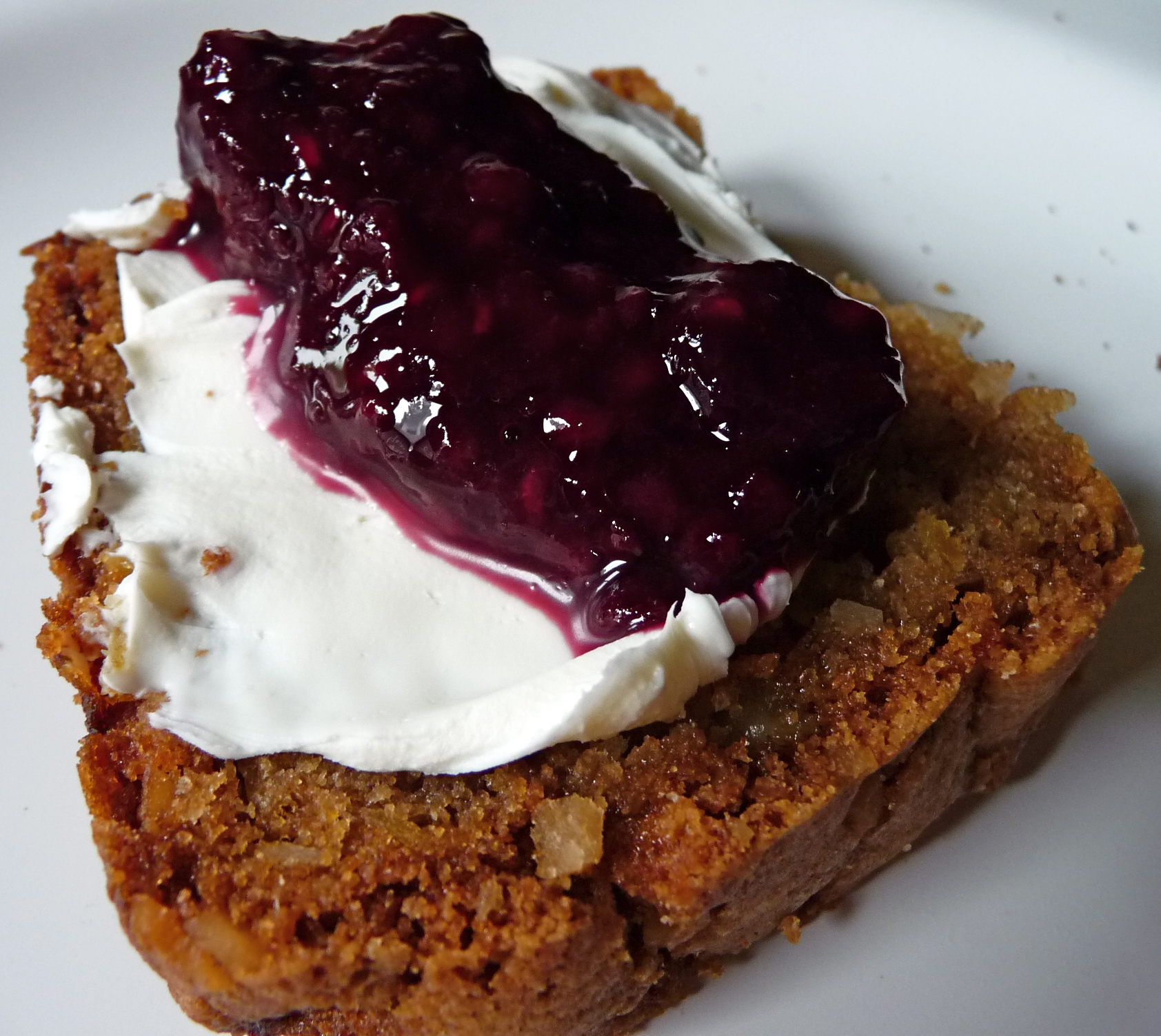 So really, you should give this one a try. It's yummy. And if you ignore the sugar and oil, you can persuade yourself that it's healthy! Kelly will have the recipe at Baking with the Boys (or you could buy the book!), and the hundreds of other TWD bakers will all have their own little tweaks on it. Bon appetit!