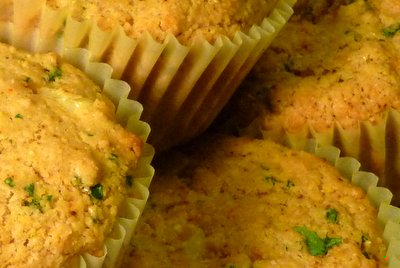 This is the first savory Dorie recipe I've made, and I welcomed the break from sugar. (I cannot believe I just typed that.)
I made the muffins to accompany a roast chicken; I thought they'd be a nice change from our usual bread or biscuits.
They were easy to put together (although I must confess that I left out the spicier additions) and baked in exactly the amount of time they were supposed to. And they were, in fact, the best corn muffins I've had.
Corn muffins are not my favorites, but these were quite good: moist and buttery and flavorful, without that dry coarseness that you so often get. And even with the chili powder, they weren't too hot for me (and nearly everything that makes any pretense of spiciness is too hot for me!).
The family was split: Husband found them "granular and tasting of baking soda," but #1 Son loved the cilantro and buttery texture, and pronounced them "stellar." #2 Son said "I don't like corn muffins, but these were really good," and he singled out the corn kernels for praise.
I guess I'd make these again if I needed corn muffins, but that's not a need that arises often around here.
Go see what the hundreds of other Tuesdays With Dorie bloggers did with these. Rebecca of Ezra Pound Cake chose the recipe for us this week, and she'll have the recipe at her blog if you want to try these savory little muffins yourself.