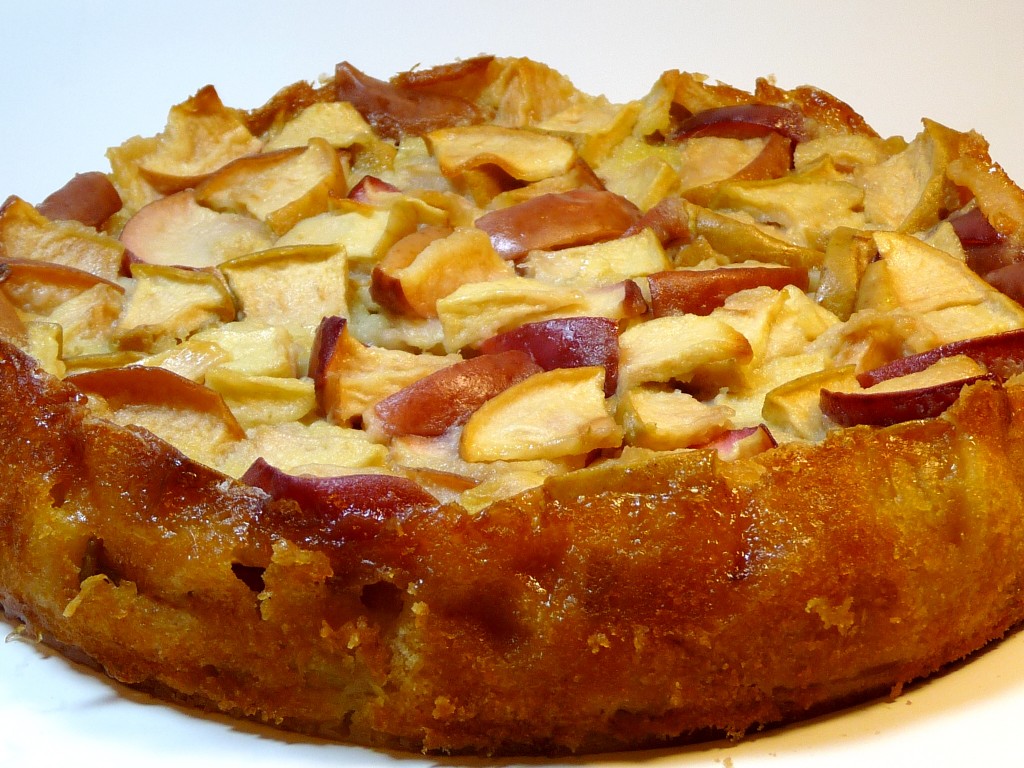 I've been part of the Tuesdays With Dorie group for two and a half years (!) now, and I've noticed something about Dorie's recipes: They often call for rum. Every single time a recipe has called for rum, I've panicked, because I never have it — and because I'm always baking at the last minute and so can't run out for any.
So you'd think that at some point over the last two and a half years I'd have bought rum. I live within walking distance of at least two liquor stores, and we're not a teetotaling family. But for some reason, I never have rum. I always just leave it out, and I'm always sad.
So when today's French Fridays With Dorie recipe called for rum, I had a script all ready. But this time I decided to improvise. Creme de cacao? No. Kahlua? No. Peppermint schnapps? Definitely no.
Maraschino? Oh, yes. Yes, yes, yes, yes, yes.
The batter was amazing.
The recipe calls for four large apples. We went apple picking a couple of weeks ago, and so I had a wide variety of apples, but only one was actually "large." So I used one large and two medium and two small — Golden Delicious, Jonagold, Stayman Winesap, and Macintosh. Once they were all cut up, it looked like a lot of apple. I thought to myself, "Hey, maybe you shouldn't use all that apple. It looks like a lot."
I don't have a good history of listening to my own advice.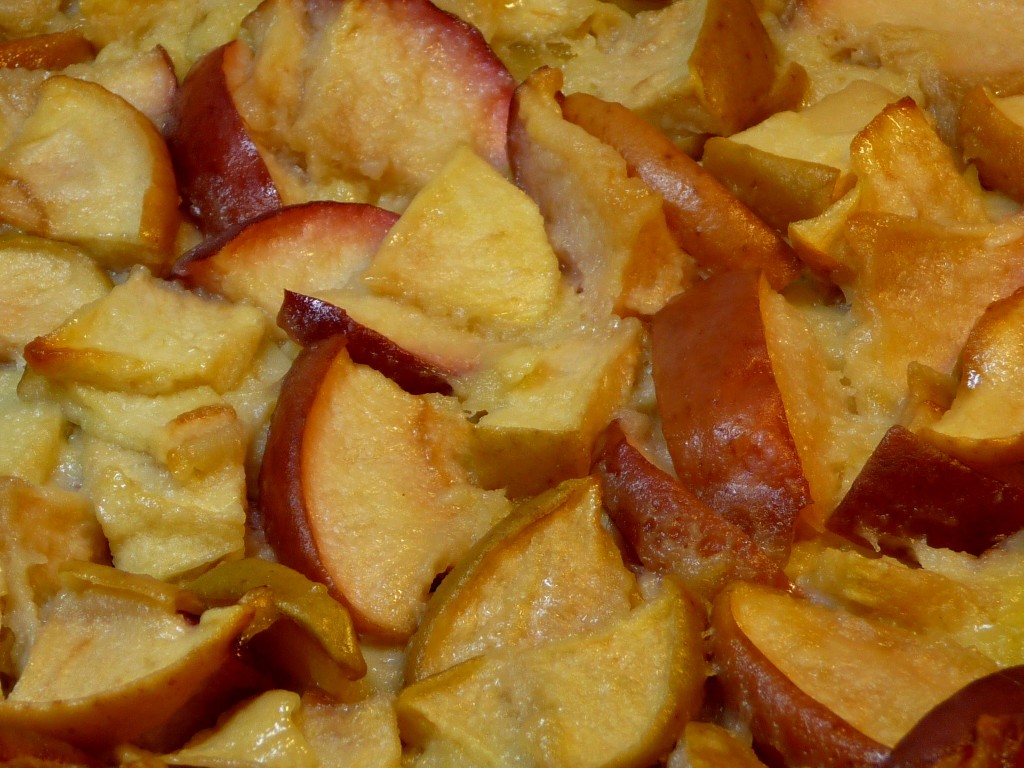 So I had this amazing cake batter (flavored with Maraschino! I can't say that enough!!!), but not very much of this amazing cake batter, and I poured in an awful lot of apples. Once mixed, each apple piece had a thin coating of batter. I was a little worried.
But this was in the middle of a day when I was also making last week's Hachis Parmentier and trying to leave by 3:15 for Ben's play rehearsal. So I put it in the pan and put it in the oven.
Fifty minutes later, it was not done. Ten minutes after that, it was not done. The top was browning nicely, but the inside was liquid. So I put some foil on top and stuck it back in the oven. I have no idea how long it eventually baked, but it had to be at least an hour and a quarter, probably more. (I forgot to set the timer a couple of times.)
Finally, not long before I had to walk out the door, I took it out and let it cool. And hoped.
It looked pretty nice, although it didn't have a lovely top crust like Dorie's did. But I worried. (That's what I do.)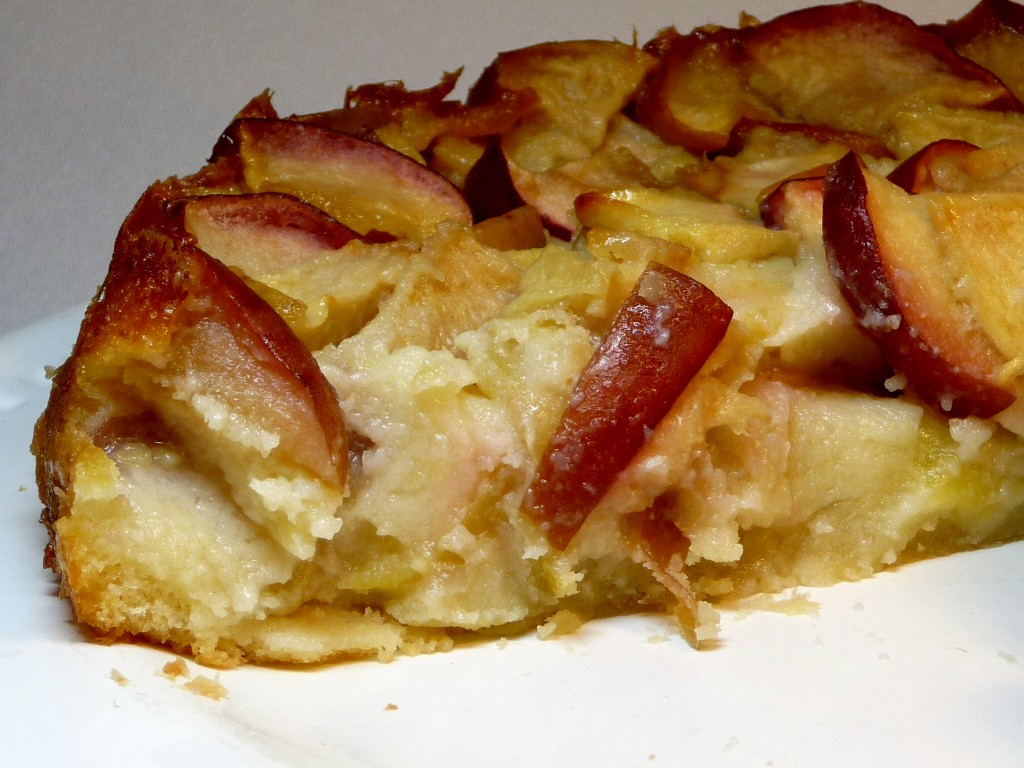 So about five hours later I cut into it. It was no longer liquid, but it was much more like custard than like cake. Tim and Ben had theirs with Greek yogurt and caramel sauce; I just had the caramel sauce.
And it was delicious.
The cake needed the accoutrements, though — it was too unidimensional on its own (even with the Maraschino!). I'm not sure why, but there just wasn't enough flavor, unlike Tuesdays With Dorie's Double Apple Bundt Cake from a few weeks ago (which I made a second time to take to Alex, who is away at college and misses home cooking/baking exceedingly).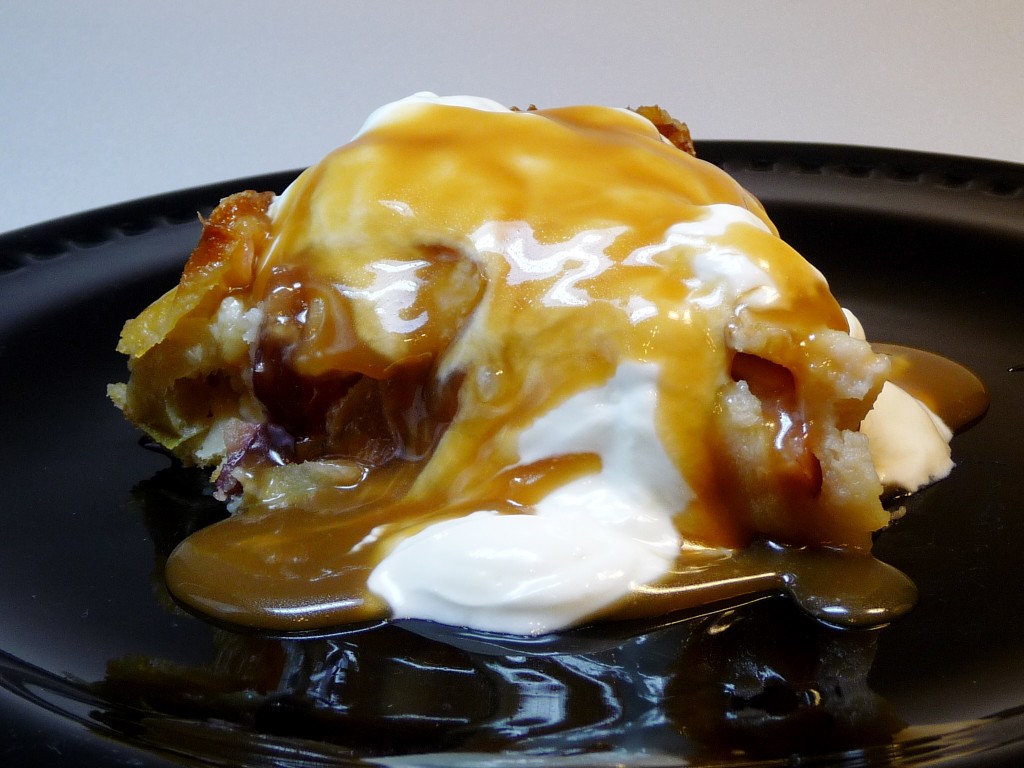 Check out the other versions created by the French Fridays With Dorie bloggers, and if you'd like to try it for yourself, buy the book: Around My French Table: More Than 300 Recipes from My Home to Yours by Dorie Greenspan. It's an excellent book.