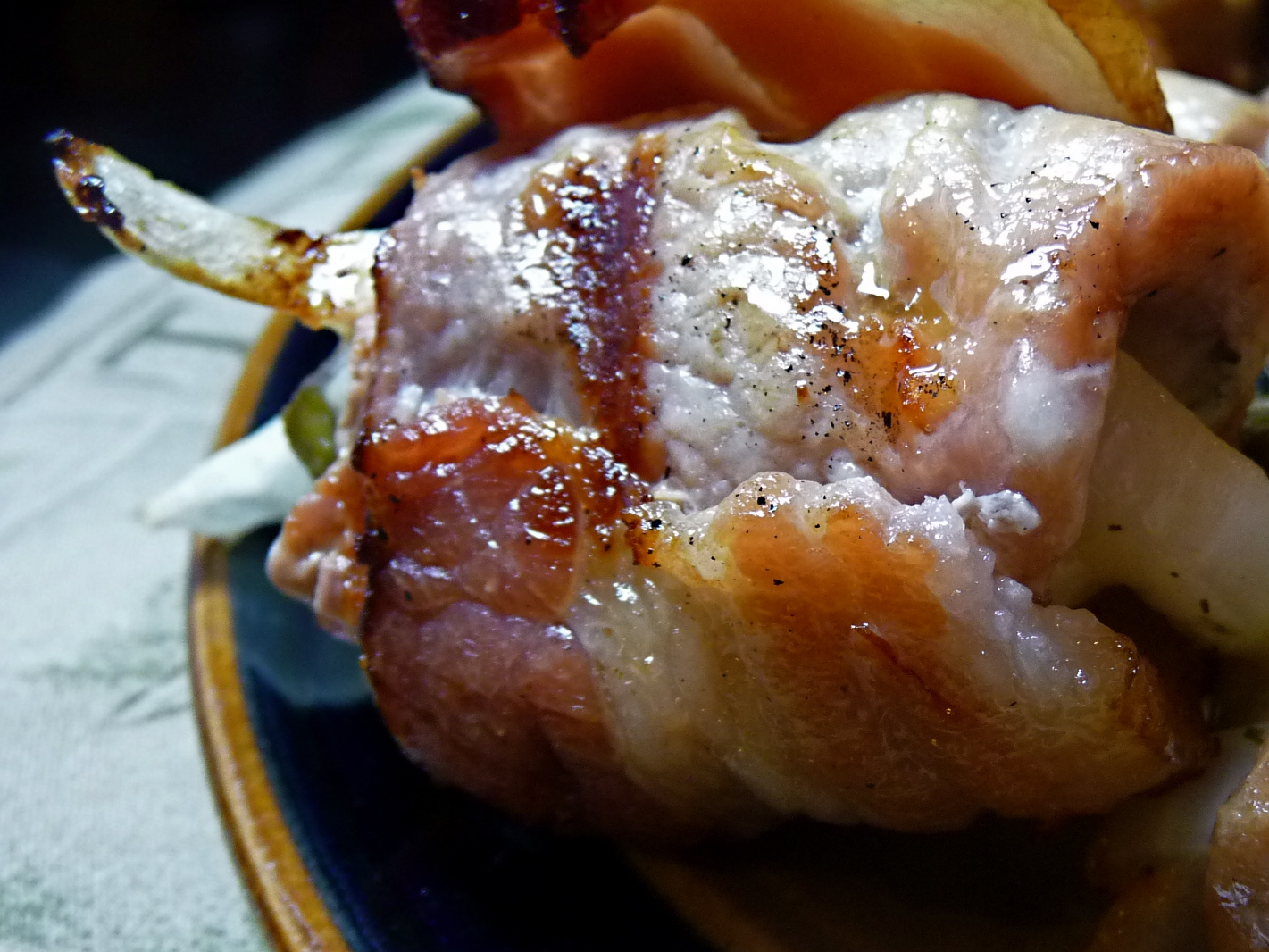 We went away a couple of weeks ago (yay Tim!), and right before we left Ben and I were at the library. (Stay with me; there's a point.) Ben grabbed a book called Planet Barbecue!: 309 Recipes, 60 Countries by Steven Raichlen.
I said, "Ben, we're never going to use that." And he said, "I will." (Dialog re-created by an extremely unreliable memory.)
Fast-forward almost two weeks. Ben spends most of a Sunday afternoon paging through the book, waxing rhapsodic over recipe after recipe. (Including South African Springbok or Pork Kebabs with Monkey Gland Sauce, but we won't go there.)
And then he hits on Bacon Cheese Pork Roulade, on page 255 of this more-than-600-page tome. That was the one.
By Tuesday evening we had acquired the necessary foodstuffs, and the boy could begin to work his magic.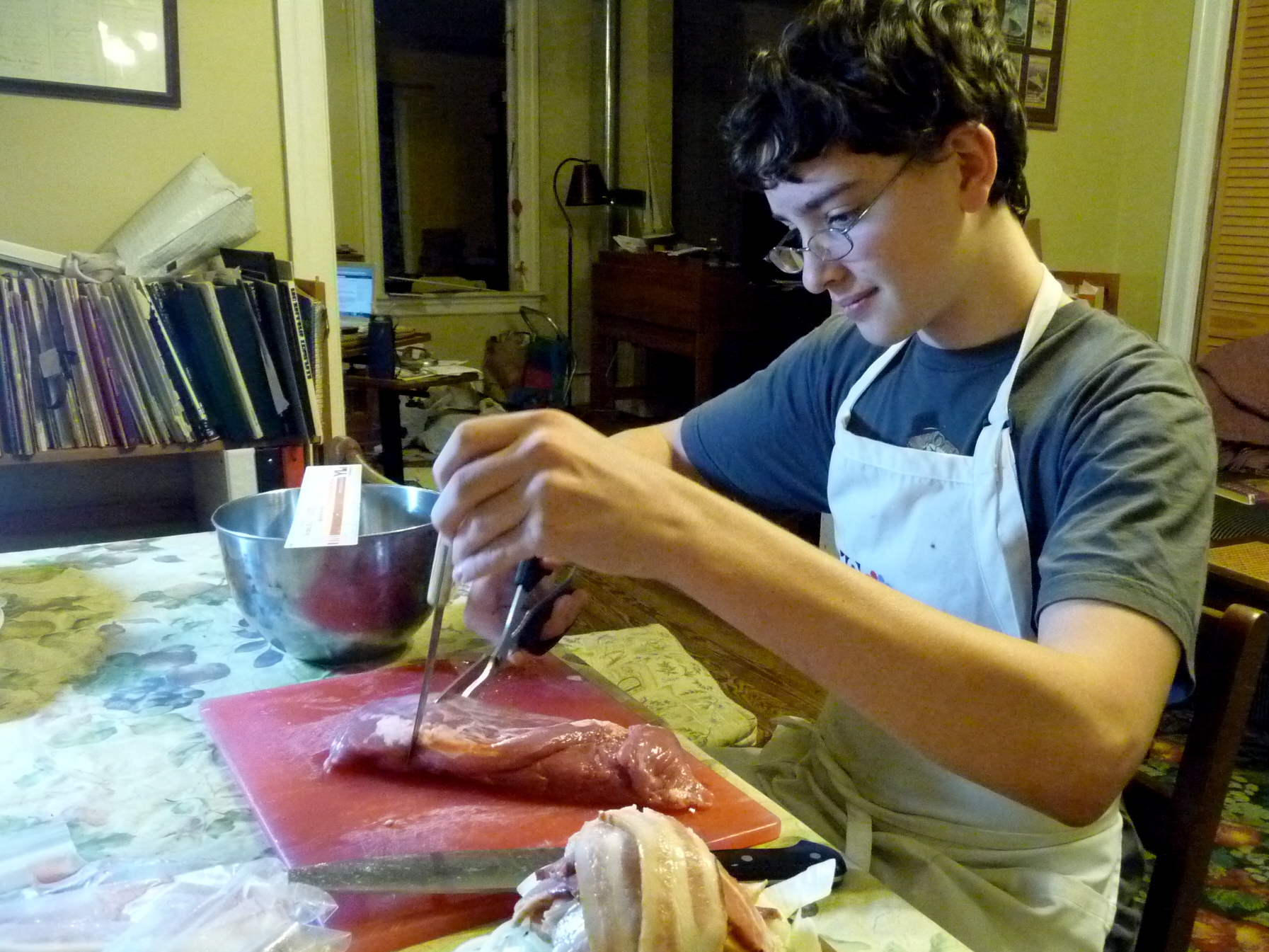 And work he did: He sliced up a one-pound pork tenderloin and pounded the slices thin. Then he sliced 12 ounces of bacon. Then he cut cheese and onions to size.
Then he wrapped cheese and onions and cornichons in the thin slabs of pork and wrapped all that in bacon.
Then he stuck them all on skewers.
That boy can accomplish great things when he puts his mind to it. And when there's food involved.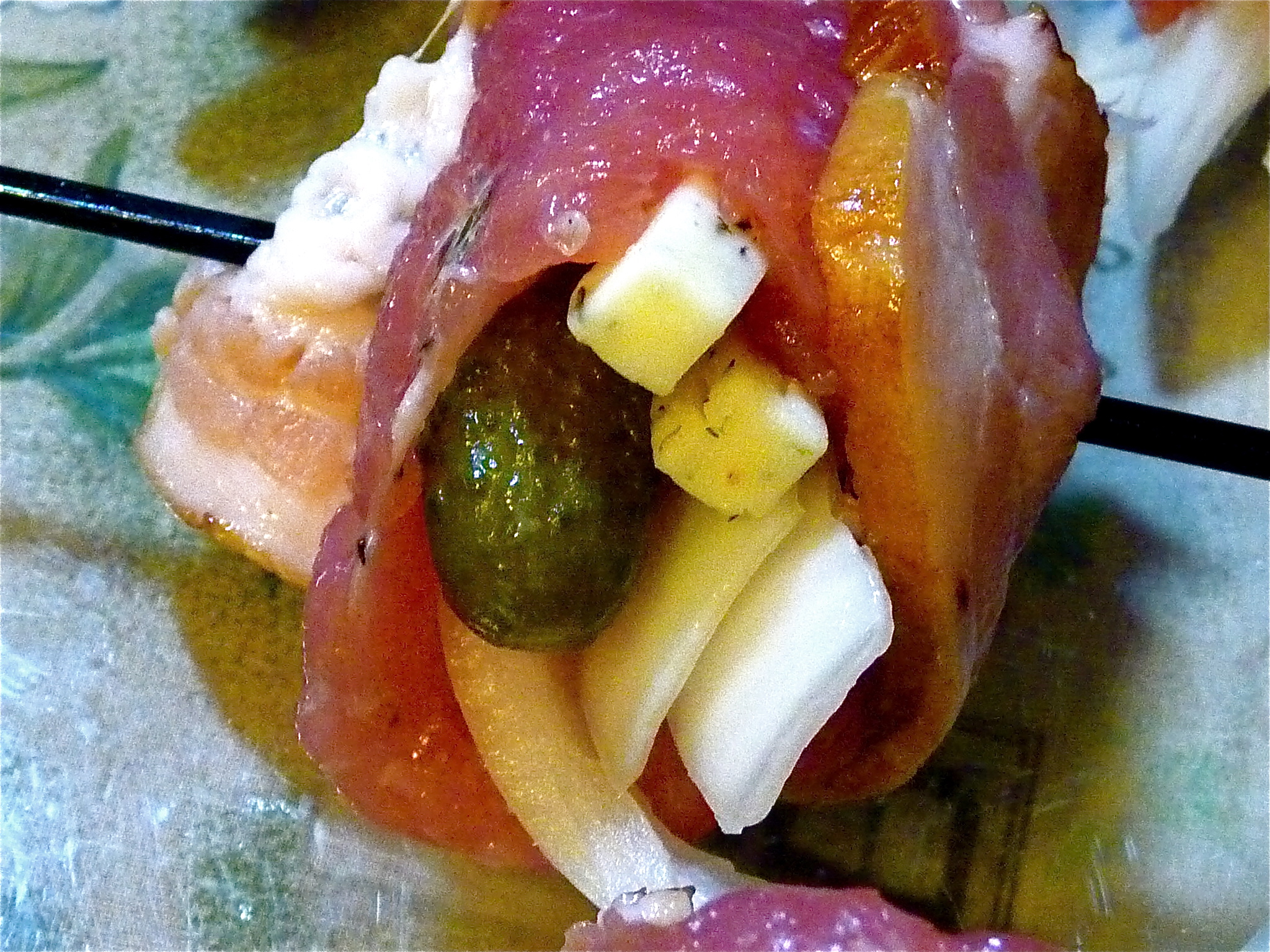 So by this time it was 7:30 or so, and full dark. It had been raining all day. But Tim — with the good humor of someone who knows there's going to be incredible food soon — braved the dark, wet yard (ably assisted by Ben bearing a flashlight) and grilled our roulades.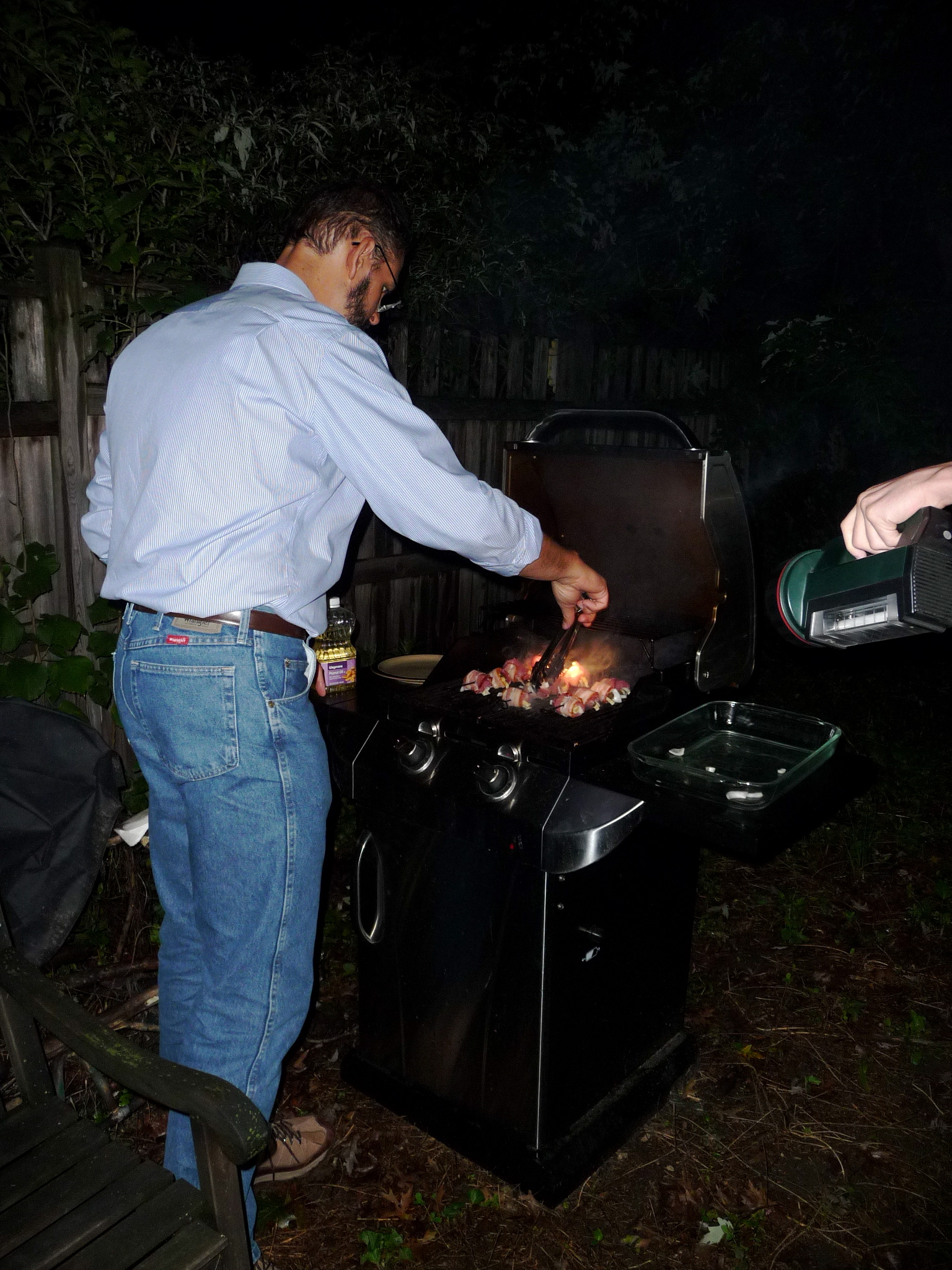 We finally ate around 8. And it was so totally worth the wait. I am not a good enough writer to tell you how good these are, so just go make your own and find out. Or just look — you know how many words a picture is worth:
Bacon Cheese Pork Roulades
from Planet Barbecue!: 309 Recipes, 60 Countries by Steven Raichlen
serves 4
1½ pounds pork tenderloin
coarse salt and freshly ground black pepper
6 oz. mildly tangy cheese, such as Edam, Gouda, or Gruyère [we used dill Havarti; Cheddar would work fine]
1 medium-size onion, thinly sliced crosswise, each slice cut in half then separated into layers
12 to 16 whole cornichons, or 3 to 4 sour dill pickles, each cut into four lengthwise strips
8 ounces thinly sliced smoky bacon, cut into 4-inch pieces
1 cup kajmak, clotted cream, mascarpone, or sour cream (optional, see Notes), for serving
You'll also need long bamboo or metal skewers.
Thinly slice the pork tenderloin sharply on the diagonal to obtain pieces that are about 3 inches long, 2 inches wide, and â…› inch thick; it helps to partially freeze the meat before slicing [although Ben didn't] (see Notes). Season each piece of pork generously with salt and pepper.
Place a slice of pork on a work surface and arrange a cheese stick, a few pieces of onion, and a cornichon or some pickle strips along one of the short edges, then roll it up to form a roulade. Repeat with the remaining slices of pork, cheese, onion, and cornichons. Wrap a piece of bacon crosswise around each roulade. Skewer the roulades crosswise on flat skewers, 4 to 6 roulades to a skewer, pinning the bacon around the outside of each.
Set up the grill for direct grilling and preheat it to medium-high. Leave one section of the grill fire-free for a safety zone.
When ready to cook, brush and oil the grill grate. Arrange the roulades on the hot grate and grill until the bacon and pork are browned on the outside, the meat is cooked through, and the cheese is melted, 4 to 6 minutes each side. Because you're grilling bacon, you'll likely get flare-ups. If this occurs, move the pork rolls to the safety zone.
Transfer the grilled roulades to a platter or plates. Remove the skewers, spoon kajmak or sour cream (etc.) over the roulades, if desired [we didn't; why obscure such magnificence?], and serve at once.
Notes:
Pound the pork slices between sheets of plastic wrap with a meat pounder or rolling pin to obtain a â…›-inch thickness.
Kajmak is a sort of Balkan clotted cream — substitute English clotted cream, Italian mascarpone, or North American sour cream.