It's my week! I've been baking along with the Tuesdays With Dorie group — most weeks — for about a year and a half, and the day has finally come for me to choose this week's recipe. I went through the book, Baking: From My Home to Yours, by Dorie Greenspan, and put sticky notes on the pages with recipes I wanted to try, most of which were cookies. There were a lot of sticky notes. Then I handed the book over to my culinary consultants and had them go through and pick the ones they liked best. Both of them settled on this recipe, so the choice was easy.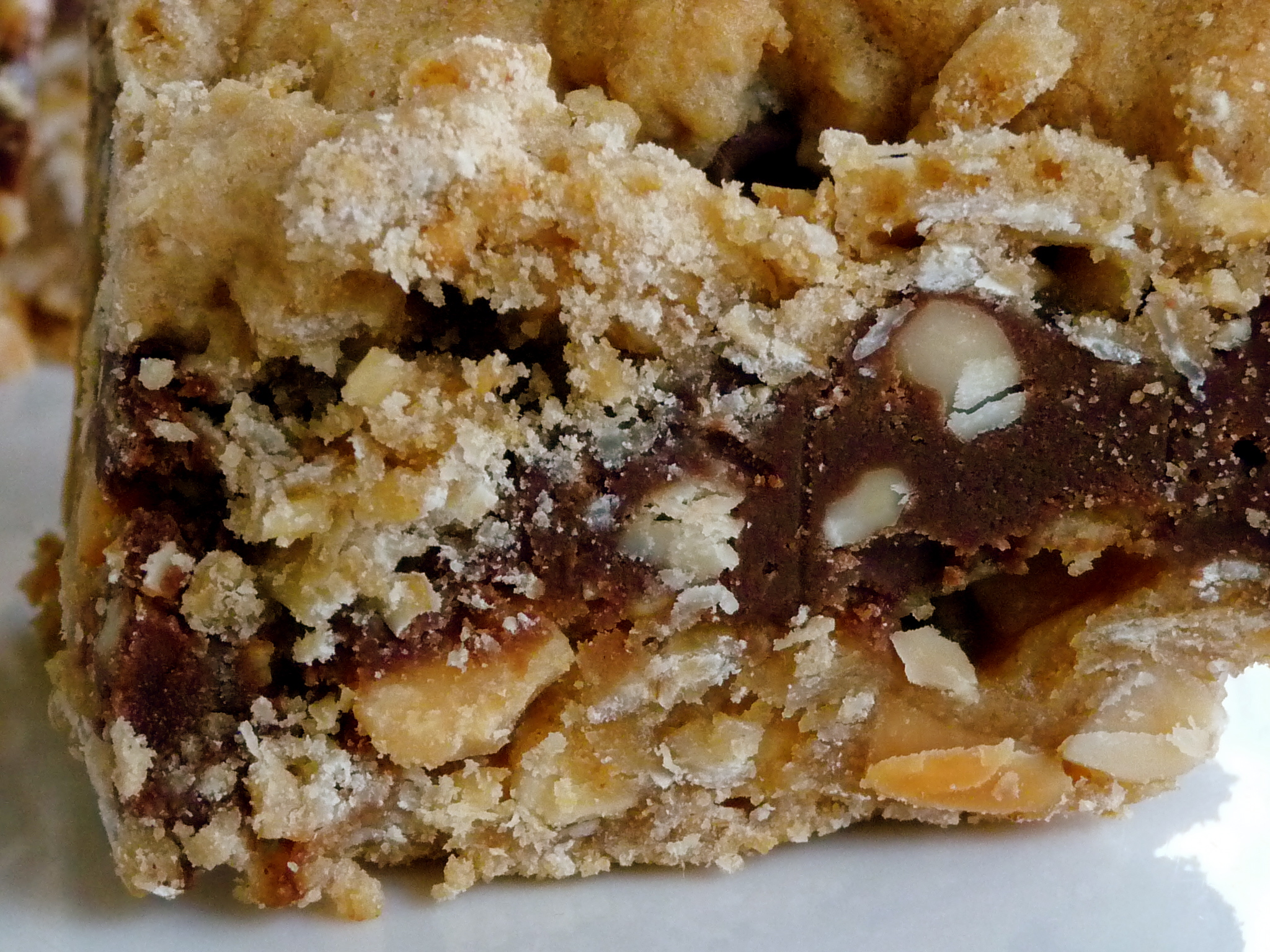 Having the privilege of choosing this week's recipe is perfect timing, because #1 Son, my firstborn, Alex, turned 18 on Sunday. This post is just the last part of a multi-week celebration that started with his admission to Duke in early December and continued through Chanukah, Christmas, and New Year's and now his joining the ranks of adulthood. It's been an eventful month and a half.
So, I made these bars. Oatmeal-cookie base, chocolate-peanut layer in the middle, then oatmeal-cookie topping. They looked and sounded delicious.
And they are.
They weren't the simplest cookies in the world, what with the three layers and all. But at least the bottom and top layers were the same batter, which helped a little. (And that batter? Marvelous. Check it out.)
So I made the cookie batter, which was really more of a dough, then pressed it into a pan, reserving some for topping. Then I melted some chocolate chips and butter and poured it on top, then covered it with the reserved cookie dough. At the special request of my now-adult son, I added raisins to a quarter of the filling, leaving the rest blissfully fruit-free. (See the toothpick marking the nasty part?)
And then I baked it. I was rushing to get this into the oven before taking Ben (previously known as #2 Son) to karate, so Alex was in charge of getting it out. I think he said it took about 10 or 15 minutes longer than the recipe indicated, but my oven's been behaving badly lately.
They cooled for the specified two hours in the pan, then went into the fridge on a cooling rack overnight. The next morning we sliced them up and packed them up to take along on our annual New Year's visit to friends in Virginia.
They were good. Not too sweet, and so not too rich. The raisin version proved surprisingly popular. There's no accounting for taste.
They spent the day on an unheated screen porch in Northern Virginia, so they were cold when we ate them. They were a hit:
Alex: One of my favorite Dories. Totally made up for the Cocoa-Nana Bread [tune in next week!].
Ben: Om nom nom good. [Please supply your own lip-smacking sounds.]
[And where, you may be asking, is Tim, heretofore referred to as Husband? He's off carbs. May God have mercy on his soul.]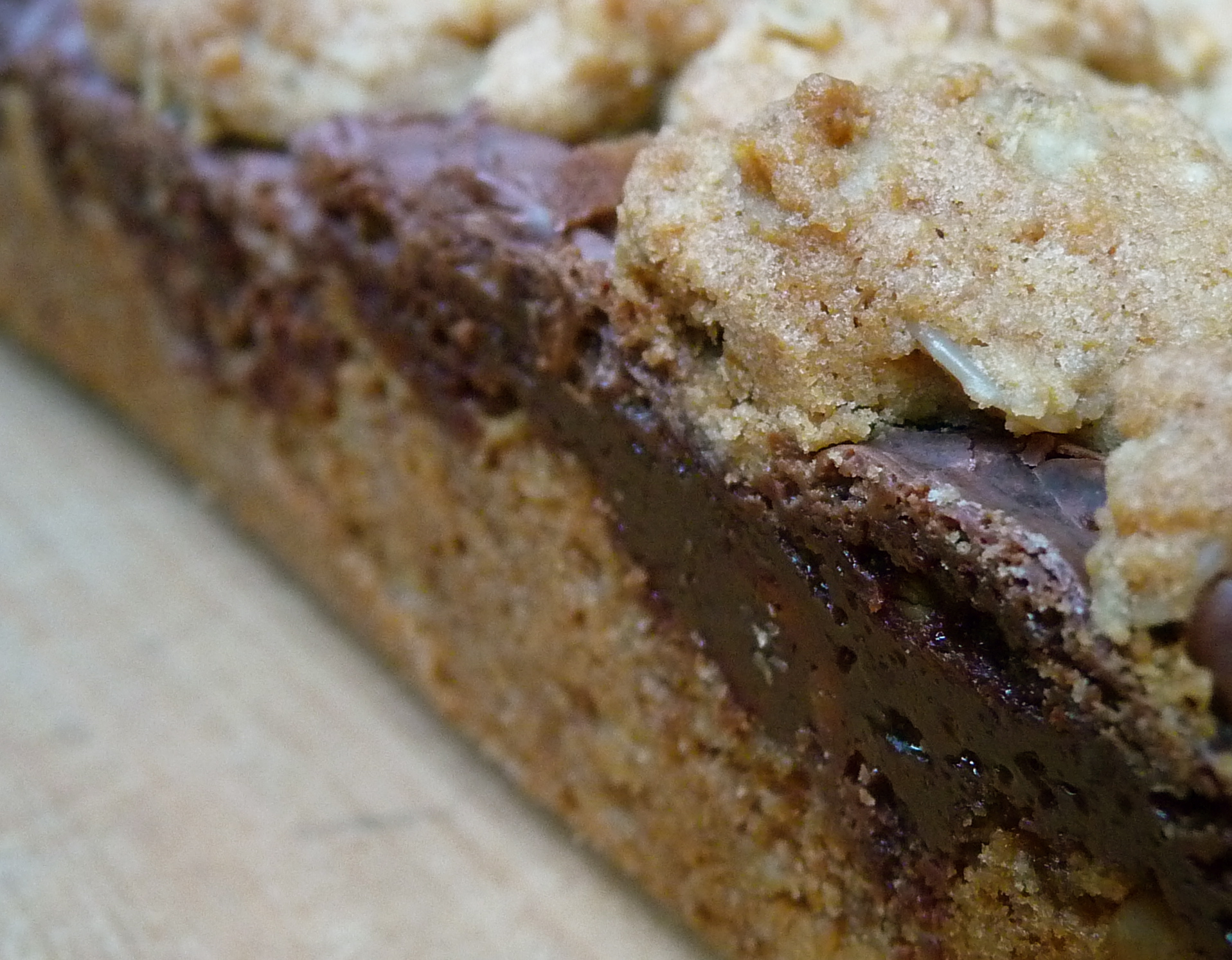 If you'd like to see what the other TWD bakers thought about these, check out the blogroll. And instead of sending you to someone else's blog for the recipe, I can include it here!
Chocolate Oatmeal Almost-Candy Bars, from Baking: From My Home to Yours
For the oatmeal layer:
2½ cups all-purpose flour
1 teaspoon baking soda
1 teaspoon salt
½ teaspoon ground cinnamon
2 sticks (8 ounces) unsalted butter, at room temperature
2 cups (packed) brown sugar
2 large eggs
2 teaspoons pure vanilla extract
3 cups old-fashioned (rolled) oats
1 cup salted peanuts, coarsely chopped
For the chocolate layer:
14-ounce can sweetened condensed milk
2 cups (12 ounces) semi-sweet chocolate chips
2 tablespoons unsalted butter
¼ teaspoon salt
1 teaspoon pure vanilla extract
1 cup moist, plump raisins (dark or golden)
¾ cup coarsely chopped peanuts, preferably salted
Getting ready:
Center a rack in the oven, and preheat oven to 350 degrees Fahrenheit. Butter a 9-by-13-inch baking pan, and place the pan on a baking sheet.
To make the oatmeal layer:
Whisk together the flour, baking soda, salt and cinnamon.
Working with a stand mixer, preferably fitted with a paddle attachment, or with a hand mixer in a large bowl, beat the butter on medium speed until it is soft and creamy. Add the brown sugar and beat for 2 minutes, then add the eggs, one at a time, beating for a minute after each egg goes in. Beat in the vanilla. The mixture should be light and fluffy. Reduce the mixer speed to low and add the dry ingredients, mixing just until they disappear. Still on low speed, or working by hand with a rubber spatula, stir in the oats and chopped peanuts.
Set aside 1½ to 2 cups of the mixture, then turn the remaining dough into the buttered pan. Gently and evenly press the dough over the bottom of the pan. Set aside while you prepare the next layer.
To make the chocolate layer:
Set a heat-proof bowl over a saucepan of simmering water. Put the condensed milk, chocolate chips, butter, and salt in the bowl and stir occasionally until the milk is warm and the chocolate and butter are melted. Remove the bowl from the pan of water and stir in the vanilla, raisins (if using), and peanuts.
Pour the warm chocolate over the oatmeal crust, then scatter the remaining oatmeal mixture over the top. Don't try to spread the oatmeal, and don't worry about getting the topping even — this is fun, remember?
Bake for 25 to 30 minutes, or until the topping is golden brown and the chocolate layer is dull and starting to come away from the sides of the pan. Transfer the baking pan to a rack and cool for about 2 hours.
Run a blunt knife between the edges of the cake and the pan, and carefully turn the cake out onto a rack. Turn right side up, then refrigerate for at least 1 hour before cutting.
Cut into 32 rectangles, each roughly 2¼ by 1½ inches. Makes 32 bars.
Serving: I think these are best served cold from the fridge, although my husband likes them straight from the freezer, cut into slivers. Before you chill the bars, though, have one — you might find you like them best at room temperature, in which case you're lucky: You can start enjoying them sooner.
Storing: Wrapped well, these will keep for about four days at room temperature, 1 week in the refrigerator, or up to two months in the freezer.