Tuesdays With Dorie has a new logo, a particularly snazzy one designed by Lisa of Surviving Oz. (And someday maybe I'll manage to get it onto my blog.) As a reward, Lisa got to choose this week's recipe, and she went with the very yummy-sounding Tribute to Katharine Hepburn Brownies.
We had these a week and a half ago, at our last Friday dinner before #1 Son went off to work at a Civil Air Patrol encampment. As I was still editing 12 hours a day, I handed these off to him, as has become all too common lately. And he did them proud.
The batter for these brownies was absolutely magnificent. I love brownie batter so much. I'm not nearly as fond of actual brownies, but the batter? To die for.
So #1 Son made the brownies, following the recipe exactly. He doesn't do that often, and I think it chafed. So to put his own inimitable touch on the dessert, he pulled some fudge ripple ice cream out of the freezer and made a cinnamon sauce to cascade gently over the whole mess. (He just warmed some half-and-half and poured it over some cinnamon chips. I'd give you the proportions he used, but he has no idea. Sorry.)
And the brownies were messy. When we cut them, they oozed everywhere. They were baked enough, I think, but gooey. (After being refrigerated all night, they were much more solid. I liked them better the next day.)
See? Gooey.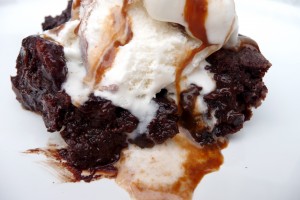 On their own, I wasn't impressed by the brownies. (To be fair, as I said above, I'm not a big fan of brownies in general.) They were too dark and heavy and rich. But add the ice cream and — heaven help us — the cinnamon sauce, and the whole thing turned sublime. It was still really rich, but amazing. I loved it. Yum. Really good. Thank you, #1 Son. (And welcome home!)
The rest of the family liked them too.
Husband: I didn't have the sauce. The little bit of cinnamon in them did add something, I have to admit as a non-fan of cinnamon; it gave them a little bit of depth that they otherwise wouldn't have had. And the gooeyness quotient was fantastic. I like my brownies almost runny.
#1 Son: Due to my impatience, they were perhaps a wee bit gooey initially, but firmed up well overnight. On their own neither the ice cream nor the brownie was particularly impressive, but combined with the sauce it came together into a stellar dessert. I found the brownies a bit heavy and rich, but I generally prefer a lighter, more caramelly blondie, so I'm biased.
#2 Son: I really liked the brownies — they were all gooey and stuff. Gooey's the best kind of brownie. The ice cream was really good with it, and the cinnamon sauce worked well.
And here's the magic sauce: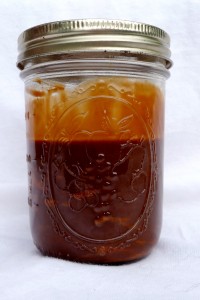 Go read about the brownies created by all the other TWD bakers, and if you want to try them yourself, buy the book (Baking: From My Home to Yours, by Dorie Greenspan) or visit Surviving Oz.