I have been waiting for someone to choose this recipe for Tuesdays With Dorie since the day I bought the book. This cake — cinnamon-flavored batter with a vein of chocolate and cinnamon-sugar, topped with a pure chocolate frosting — sounded like everything a cake should be, and I wanted it.
I got it.
I was going to make it for breakfast, but circumstances intervened and we had it for dessert instead. So I didn't add or subtract anything from the recipe at all, except to make the cappuccino variation. (Mmmm, coffee and cinnamon and chocolate.)
I cut the ingredients in half and made six cupcakes; they baked for about 25 minutes. About 15 minutes out of the oven the cupcake I cracked open was warm and airy and exuding cinnamon: absolutely marvelous. I could have eaten all six cupcakes right there, leaving my poor family bereft.
But I didn't. I'm a good person, really.
I let them cool and put them away all nice and airtight, and there they sat for 20 hours or so.
The next day #1 Son was kind enough to make and apply the frosting. I neglected to tell him that I wanted milk chocolate frosting, so he made dark (as written). Then he made more with milk, for me. Isn't he a darling?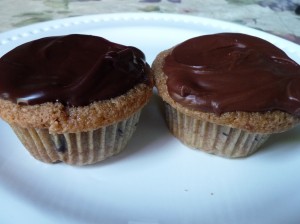 And the frosting worked! I looked at the ingredients — just chocolate and butter, melted together — and I couldn't figure out how that was going to turn into frosting. It was magic, I guess.
I didn't try a cupcake with dark chocolate, but the milk was pretty darn good. It meshed perfectly with the flavor and texture of the cake. I would eat many more of these, given a chance.
Husband: When they were warm, they were incredibly light and gave off this great cinnamon fog, in a good way — you could smell and taste it, but it wasn't overpowering. The second day they had densed up and a lot of that cinnamon freshness was gone. But it was really quite good with the frosting, and it's hard to say, ultimately, which way I preferred it. I know I should have preferred the dark frosting — and I generally do prefer dark chocolate — but at least the way it was tonight, the milk was much more of a marriage.
#1 Son: Much better warm. They were too sweet the next day, and lost most of their cinnamon flavor. The frosting was interesting, but a little heavy. [He put raisins on his. Always with the fruit!]
#2 Son: Better warm, and a very subtle undertone of cinnamon the next day. The frosting was … well, it was fudge. The milk chocolate one was just too sweet.
Too sweet. Hah! But he's right — it was essentially fudge. And fudge is good.
What kind of crazy world is it where a 12-year-old boy tells a 41-year-old woman that something is too sweet?
Anyway, go check out the myriad variations that will no doubt grace the pages of the TWD bloggers. And go buy the book so you can make this cake yourself (or visit Tracey's Culinary Adventures; Tracey chose the recipe for us this week, and she'll have the details). Bon appetit!