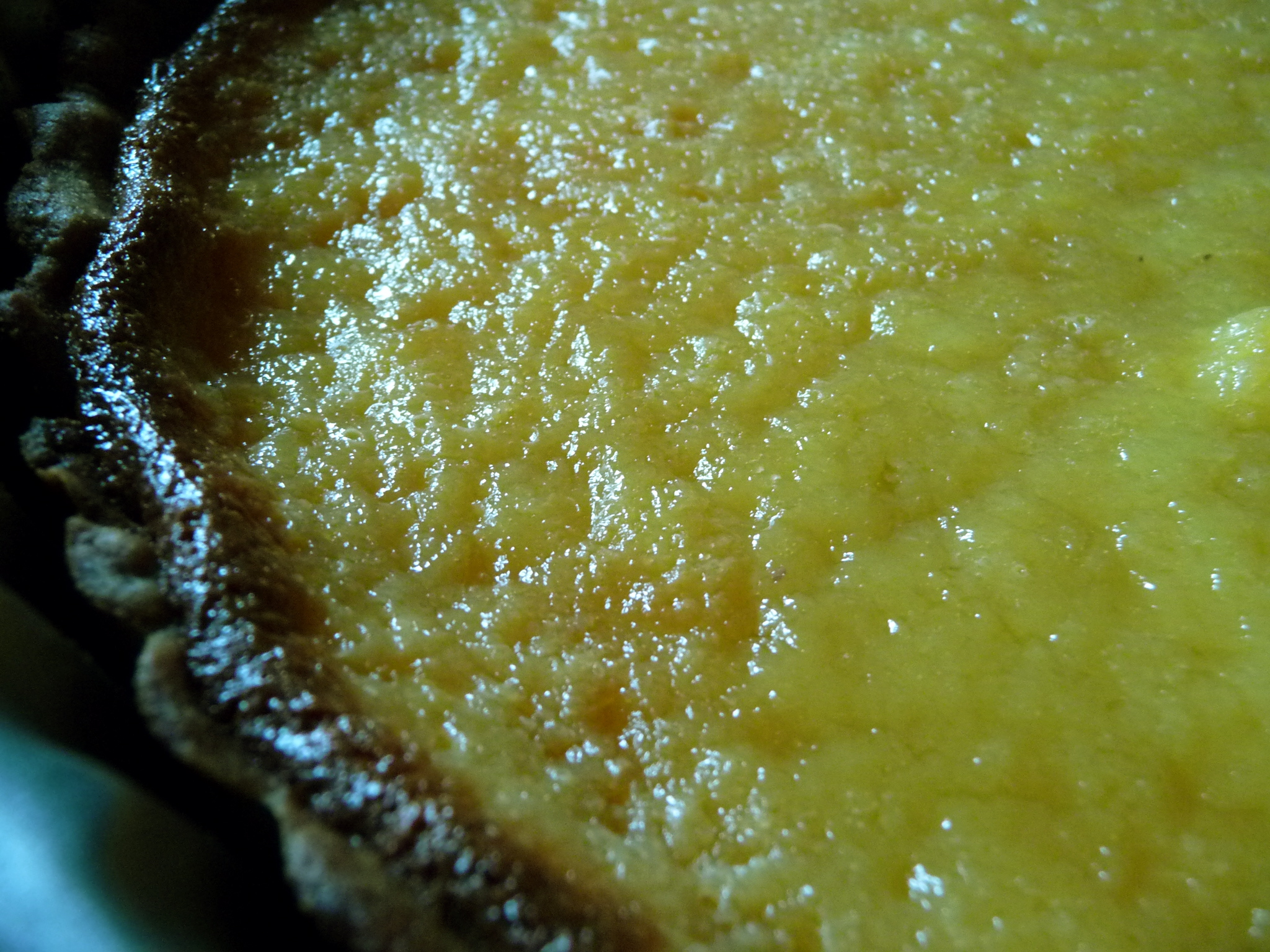 Again with the fruit. I was so not looking forward to this week's Tuesdays With Dorie recipe, chosen for us by Babette of Babette Feasts. Not only do I not like fruit as fruit, I particularly don't like citrus fruit, even the flavor.
But you know what? I actually liked this, the only member of my family who did.
As seems to have become a bad habit, #1 Son made the tart. (Am I going to get kicked out of TWD if I don't start baking again soon? I hope not. I've been on one deadline or another for weeks, and I'm just too fried to think, let alone bake. I'm still writing, though! Sometimes.)
So first he made the crust, using the new food processor blade that had just come in the mail and hadn't yet been washed. I'm going to choose to believe that it wasn't made in China and that there were no weird chemicals coating it, and that we're not all going to die. He doesn't like making crusts, but Dorie's are at least easy to handle.
Then he made the filling, exactly as the instructions instructed. I noticed in the P&Q on the TWD site that several people had problems with bitterness from the pith of the lemon, and others recommended cutting off the ends of the lemons to mitigate that. But I read that this morning, so he didn't do it.
My only part in this whole endeavor (besides grocery shopping and teaching the ungrateful child to cook in the first place) was taking the tart out of the oven, which I did when it looked as described in the recipe. Unfortunately, by this time the crust was a bit, shall we say, Cajun.
And then #1 Son added his own little touch: orange whipped cream, made by adding a bit of orange juice and vanilla to Dorie's whipped cream recipe.
And then we had it, after dinner on Friday night. It was room temperature, and a little puddingy, and I liked it. It was a bit tart, but not horribly, and the lemon was actually nice. (For context, I don't even like lemonade or lemon water ice. Everyone likes lemonade and lemon water ice.)
But the men of the house, all of whom love lemon, were unanimous:
Husband: I wasn't fond of the orange whipped cream. The crust had some sort of weird metallic taste to it, and the lemon tasted burnt, as if someone had scorched a lemon and then forced me to eat it.
#1 Son: I thought the lemon was almost bitter — it had almost no depth of flavor. And the crust baked for too long, which was partially my fault and partly the recipe's fault — it said to cook it till the lemon looked a certain way, but that was too long for the crust. Just overall, not what I wanted or expected. The orange whipped cream blended texture, flavor and presentation into a touch of genius.
#2 Son: I found the crust not horrible. The lemon was weird — Dad's right about the burnt taste. But I really liked the orange whipped cream.
So what do I know?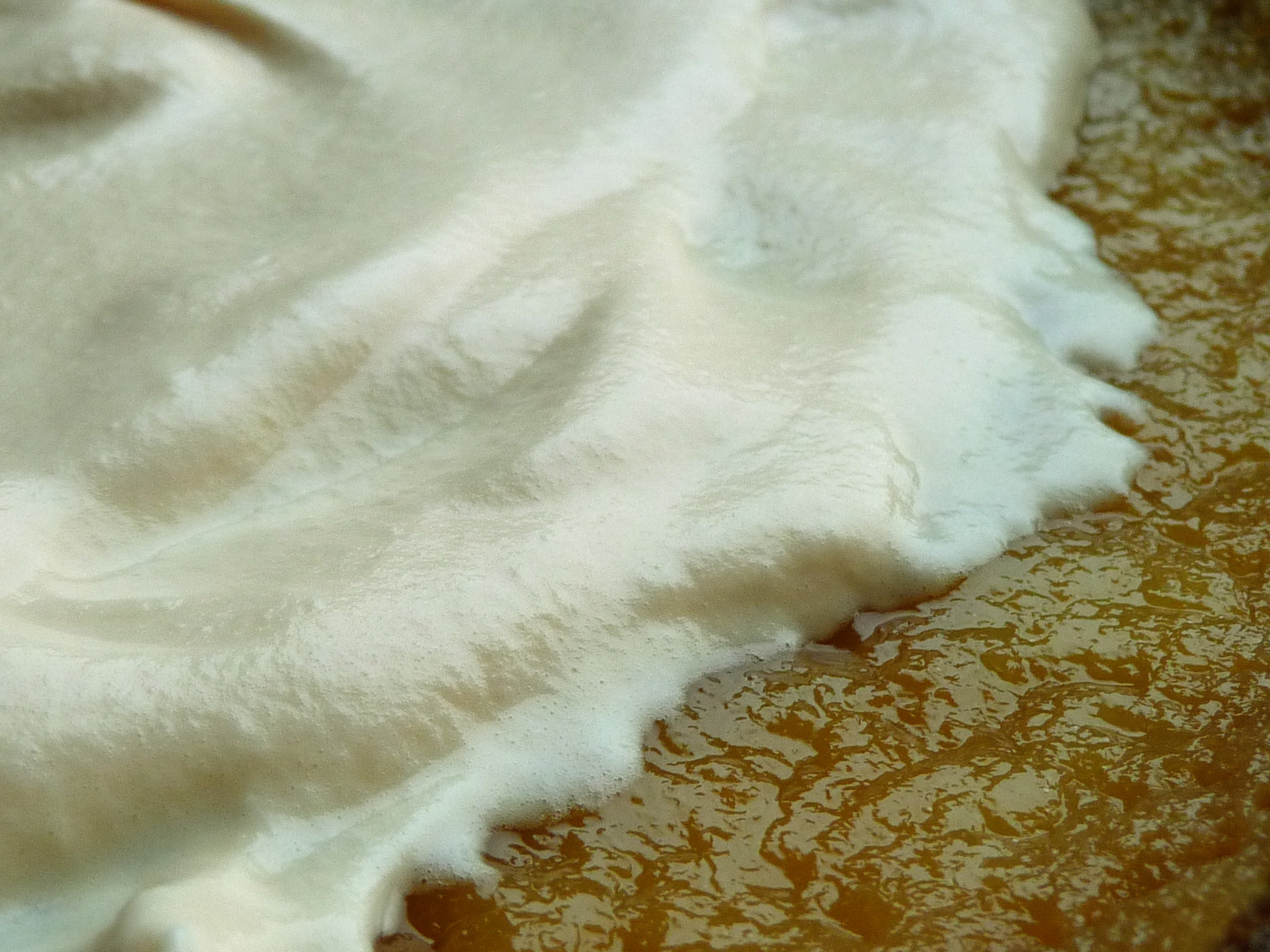 We ate it again cold, two days later. It fared a bit better this time:
Husband: The lemon flavor mellowed, but still tasted scorched to me. And the whipped cream tasted even more like a creamsicle. I hate creamsicles.
#1 Son: Some of the graininess went away — it was much smoother cold. The whipped cream thickened beautifully. And while the crust is still overdone, it doesn't bother me as much cold. I think some moisture got into it and made it softer.
#2 Son: The whipped cream is more like a creamsicle now and I definitely like the lemon taste more, but the crust is still burnt.
I liked it even more cold. I won't make it again, since chocolate always beats fruit in my book and the men didn't like it, but I did think it was pretty good.
Go see what hundreds of other bakers did with this, and if their families liked it better than mine did. And if you want to try it yourself, Babette will have the recipe on her blog for you.
Next week (maybe!): Fresh Mango Bread!