I like brownies. I love chocolate-chip cookies (most especially ones made from the amazing oatmeal chocolate-chip recipe on the Quaker Oats box). How could I go wrong with this week's TWD recipe, which combines the two.
I managed.
I made these in a hurry, a couple of hours before #2 Son's belated 12th-birthday party. He planned it himself; my only job was to provide the food, so I figured this was a perfect opportunity to make this week's selection. (I also made one of June's selections, but you'll have to wait a while to hear about that.)
A lot of people mentioned having trouble spreading the cookie dough over the brownie batter. That wasn't a problem. The batter stiffened a bit while I was making the dough, and I just used small spoonfuls of dough and smooshed them together.
Then I baked it for 45 minutes, less than the 50 to 55 called for in the recipe, and when I took it out the cookie layer was dark, maybe too dark, and had risen higher than I expected. I stuck a knife in and got just a few streaks of chocolate, just like the recipe says. So I let the brownies cool in the pan. They unmolded fine.
I trimmed off the burnt edges, and they were good. I sliced a couple of rows of bars, and except for a distressing tendency for the cookie layer to crack, all was well. But when I got to the third row brownie batter oozed out, essentially unbaked. I happen to love brownie batter, so I'm perfectly happy to eat it that way, but it felt wrong serving raw eggs to other people's children.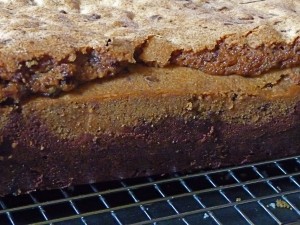 They ate the edge bars, though, and they seemed quite happy with them. I got only three quotes, though; sorry about that.
Friend #1: I've never heard of a cookie being on top of a brownie. I thought it was really yummy!
#2 Son: They were pretty good. The brownie was delicious, but the chocolate chip cookies on top were overly salted and too crunchy and not all that good. [That didn't stop him from scarfing them down.]
Husband: I liked the middle ones better, where the bottom of the cookie layer was still gooey. Overall, I thought they were a little too sweet.
I thought the brownies were pretty good, although too dark for me. I loved the cookies on top. But together, they just weren't as sublime as I thought they'd be. Oh, well.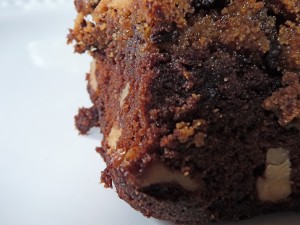 Go see what all the other TWD bloggers did with this recipe, and if you want to try it for yourself, buy Baking: From My Home to Yours by Dorie Greenspan or visit Supplicious; Beth is the blogger who chose this recipe for us this week.