The April 2009 challenge is hosted by Jenny from Jenny Bakes. She has chosen Abbey's Infamous Cheesecake as the challenge.
I don't like cheesecake. And I forgot to check this month's recipe till the middle of last week. And I was away all weekend.
So my entry in this month's Daring Bakers challenge has been farmed out to the ever-daring #1 Son. Take it away, #1:
__________________________________
I love cheesecake. It's my favorite baked good, no contest. I've never found a flavor variation I've truly liked, always preferring the pure taste. Chocolate was too rich, coconut ruined the texture, and the maple I tried once was just strange. So when my mother shunted the Daring Bakers challenge onto me, I was determined to find some change that would be palatable, nay, delicious. I ran through a number of possibilities before landing on one I thought would be both tasty and inventive: lychee-thyme cheesecake loaf.
Inspired by a Susanna Foo sorbet I made a few months back, I decided to riff on the standard lemon cheesecake, adding the mild tang of lychees and the herbal warmth of thyme. In the absence of a watertight springform or circular metal pan, I was forced to use a foil mini-loaf pan. The cheesecake cooked evenly, somehow, though it lacked the browned sides I usually see.
As far as the recipe goes, I was a little less precise than perhaps behooved me as a guest blogger. I took the standard recipe, cut it down to a third, and took out the flavorings, then added a 15-ounce can of lychees (half diced, half pureed), four or five sprigs of thyme (pureed with the lychees), and two splashes of lemon juice. I used half-and-half instead of cream, because that's what was in the fridge. Also, partly to keep the Eastern theme going and partly for silliness, I used panko for the crust.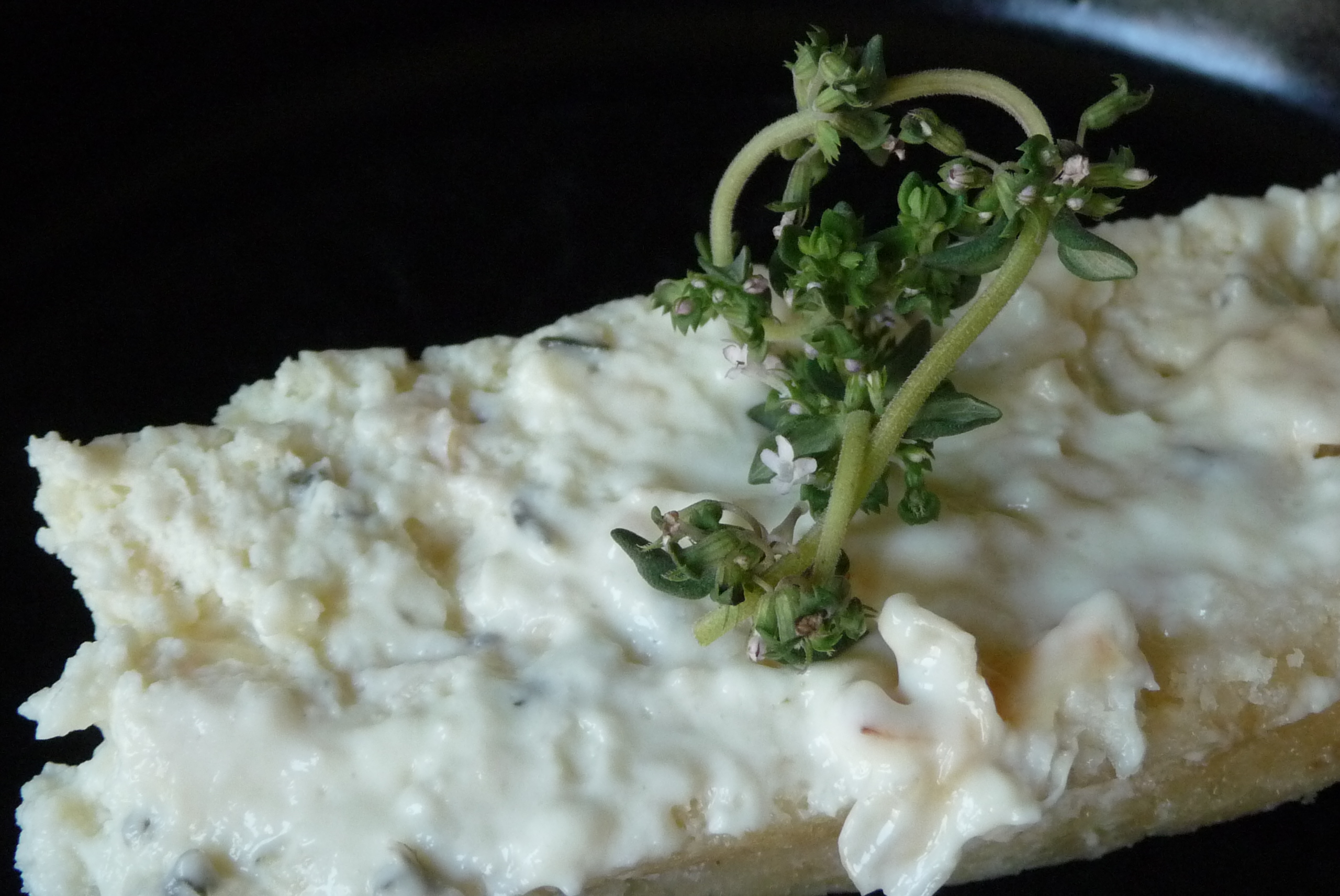 I think it turned out pretty well. Between the half-and-half and the fruit, it ended up very light and summery, and I could eat a lot more of it than a normal cheesecake. Whether this is a good thing or not, I can't say. The lychees gave it a wonderful fruitiness, and the thyme gave it that earthy finish I was looking for. The panko crust worked well too, with a little more chew than normal crust and some absorbed cheesecake flavor. I think I'd fine-tune this recipe before I made it again, but I certainly would make it many, many more times.
Here's what my family thought:
Confectiona: I don't like cheesecake, but this was pretty good. I had two bites!
Father: It tasted like key lime pie. In a good way.
Brother: It started out with a nice cheesecakey beginning, and I got a little bit of that thing you get when you chew cherry skins — but it was lychee skins — in the middle. At the end it leaves a kind of herby aftertaste at the back of your throat. All in all, excellent job.
__________________________________
I'm back. He did a great job with this one, and I'm sure the other Daring Bakers did too. Go check them out!