But I bring you another in what seems to be a series of ethnic holiday dishes (although this one, technically, is not my ethnicity, nor is it the ethnicity of anyone on either side of my family, or my husband's; that's got to make us pretty unusual.)
First, if you want to read about French Yogurt Cake with Marmalade Glaze (which sounds heavenly, I must say), check out all the other TWD blogs, most especially My Cookbook Addiction, where Liliana (who chose the recipe for us this week) will have the recipe for you. You should definitely also buy Baking: From My Home to Yours by Dorie Greenspan, the founder of our weekly feasts.
So today is, of course, St. Patrick's Day. We like all things English/Irish/Scottish/Welsh around here (although again, no family history in any of those places), and so we celebrate St. Patrick's Day the same way we celebrate everything else: with food.
#2 Son made the Irish potatoes (such as they were) this year, and being #2 Son he did them his own way (and in the process learned that there is a very definite difference between regular cinnamon and Penzey's Vietnamese cinnamon). For those of you who don't know Irish potatoes — you poor deprived souls — they're not potatoes at all, or Irish. They're a mix of cream cheese and butter and powdered sugar and coconut, rolled into little balls of heaven and coated in cinnamon. I've heard that they're a Philadelphia thing, not widely known outside the city; I can't confirm or deny that. But if you haven't ever tried them, do it now.
He started out making potatoes: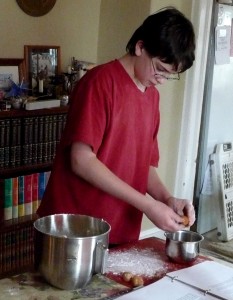 But he quickly decided that potatoes just wouldn't do. There was a famine, after all, and all the potatoes turned black.
So he made some other shapes:
Later tonight I'll write about the Irish stew and soda bread we're having for dinner. But for now, here's our recipe for Irish potatoes, originally provided by Donna Pilato at About.com: Entertaining (my comments in parentheses):
¼ cup (½ stick) butter, softened
4 ounces regular cream cheese, softened (Donna says don't use low fat or whipped, but we used Neufchatel with no problems)
1 pound powdered sugar, plus extra for coating hands
7 ounces sweetened coconut flakes
1 teaspoon vanilla
2 tablespoons ground cinnamon (we have also used allspice and nutmeg, both of which were delicious)
With mixer, cream together cream cheese and butter in a medium bowl. Mix in sugar and vanilla, being careful to add sugar slowly to avoid creating a large sugar cloud. Stir in the coconut flakes. Put cinnamon into a small bowl. (If you discover that you have accidentally used extraordinarily strong Vietnamese cinnamon, mix in some powdered sugar to cut it.) Coat dry hands with a little powdered sugar, and using your hands take small pieces of mixture (about 2 teaspoons apiece) and form into potato shape (or as you wish!). Drop potatoes into cinnamon and roll to coat. Place on baking sheet. When all the potatoes have been formed and dipped in cinnamon, refrigerate for several hours until firm. (Or eat right away. Whatever.)