I believe this is my first Dorie failure. There have been some recipes we haven't liked as much as others over my past seven months as part of Tuesdays With Dorie, but this is the first time that what I wound up with looked nothing like the lovely photo in the book.
The crème anglaise was lovely. The meringue tasted great, pre-poaching. Even the caramel was good, and I've had less than stellar results in past sugar-boiling efforts. But as a dish, eh.
I made the crème anglaise a day in advance, because the recipe mentioned that the flavor would be better that way. It tasted like a nice, rich vanilla ice cream base — which is, essentially, what it was.
I whipped up the eggs whites just perfectly — I make meringues fairly frequently, so I'm familiar with the process — but when I tried to poach them, it was a disaster. The egg whites just dissolved into the simmering milk.
I tried whipping them some more. Didn't help. Still disappeared.
I tried using more egg white mixture at a time. This time I got little tiny pillowy things, looking nothing like the photograph. But since I had at least achieved something, I kept using larger and larger amounts.
By the end (I cut the recipe in half, because there were only three of us eating dessert), I had one decent-size island (not nearly as pretty as Dorie's), one smaller one, and two tiny ones.
I refrigerated them for a couple of hours, as instructed, and then plopped them in the crème anglaise and flicked some caramel on top. That part looked pretty.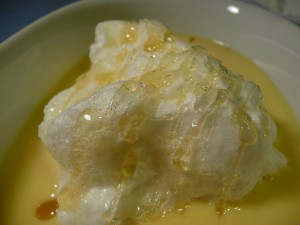 But I've always been pretty bad at presentation, and I was prepared to like them despite their appearance. But I didn't. The poached meringues came out like a souffle rather than like meringues, and there just wasn't anything to them. The family agreed:
Husband: They tasted like little omelets. They were perfectly good little omelets. Just not desserty.
#2 Son: While the ocean was tasty, the rest was pretty bad. The island was too eggy, and the caramel almost cut my gum.
#1 Son has no opinion this week, because he chose to spend the afternoon and evening with his girlfriend rather than at our Friday dinner. No more will be said on the matter.
Look at the pretty one again:
There was a bunch of caramel left over, so I saved the day. David Lebovitz has an amazing candied peanut recipe. I had sugar and water. I made candied peanuts! And they were good.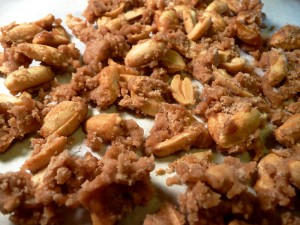 Go check out what all the other TWD bakers did with the floating islands. There will no doubt be hundreds of better renditions out there. And if you want to try it for yourself (go ahead, make me look bad), Shari will have the recipe over at Whisk: A Food Blog.
Next week is another week!